This post may contain affiliate links which may give us a commission at no additional cost to you. As an Amazon Associate we earn from qualifying purchases.
New to SITS? Welcome!! Go read this to get started.
We're heating things up this summer with something new. Every Friday, we're picking three comments from our features that week. The three bloggers behind those comments will get highlighted right here in what we're calling Friday Potluck. That means the more days you comment on the featured blogger, the more chances you and your blog will get to be front and center.
So let's get this potluck started. Here are the three lucky bloggers. Please be sure and go leave them some comment love as next Friday, it might be your turn!!
This blogger has a great post about finding a tiny hidden message between the pages of her library book.
This next blogger gives us the inside scoop on the hottest iPhone apps for the preschool crowd.
Last, but not least, this blogger has a brilliant take on the strategic placement of greeting card aisles in some grocery stores. Hilarious.
So, get on out there and make these bloggers' Friday
YES. APPARENTLY SOMETHING IS NOT QUITE RIGHT WITH COMMENTING HERE- JUST GO LEAVE AN EXTRA COMMENT ON ONE OF THE LUCKY LADIES ABOVE WHILE WE FIGURE IT OUT.
Want to get an email each time we post? Just click here.
And, as always, when you see this: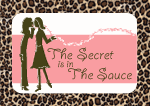 LEAVE A COMMENT.