This post may contain affiliate links which may give us a commission at no additional cost to you. As an Amazon Associate we earn from qualifying purchases.
Stepping up to our featured blogger spotlight today is Lisa from Inspire to Thrive. She has found blogging to be therapeutic and loves to share and learn more each day.

I started blogging to help others online with their websites and blogs. I was getting questions from friends and acquaintances and thought "I should blog about this stuff." I blog to inspire others online through social media, blogging and SEO. I hope others can learn from my mistakes and tests I have done online with 2 websites I manage for my husband's business.
Three posts that Lisa recommends you read:
Can Social Media Heal Your Scars? Here is a company that helps people overcome their physical and emotional scars through the use of social media.
Clogs, Cancer, Conversations. Last September, I helped spread awareness of Ovarian Cancer through an organization I discovered online.
Would you know if a Twitter friend was in danger?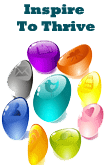 There's your sneak peek! Next up, leave a comment on this post wishing Lisa a Happy SITS Day, then head over to Inspire to Thrive and leave your comment love there too.