This post may contain affiliate links which may give us a commission at no additional cost to you. As an Amazon Associate we earn from qualifying purchases.
I just LOVE the title of today's featured blog. Laughter really is the best medicine.
This blog is simply lovely- a positive, smart and funny perspective of life.
Please meet Latorsha of "Life is Hard, Laugh Anyway".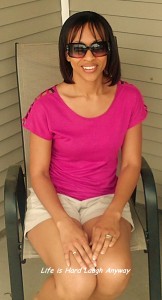 I must say I never thought this day would come. I am so excited to finally be featured. I am the creator of Life is Hard Laugh Anyway, a place where I try to remain optimistic about my journey, otherwise known as life. You will find me talking about motherhood, marriage, and many random topics all intertwined with a few laughs and sometimes tears. My blog is my testimony that life is hard, BUT we might as well laugh anyway. It is my hope that when my readers stop by each one might find some camaraderie, solace, and of course, laughter.
So. Now you need to leave a comment below to roll call and then you MUST go comment on Latorsha's blog– cause that's what this is all about.