This post may contain affiliate links which may give us a commission at no additional cost to you. As an Amazon Associate we earn from qualifying purchases.
Gigi from Kludgy Mom has mastered living in the moment by taking on motherhood in a spontaneous way…the Kludgy way! There's a little bit of everything for a little bit of everyone on this hilarious site.
Kludgy Mom is an interesting title…what inspired it?
I spent lots of time with software geeks when I worked in tech marketing. They use the term "kludgy" (pronounced clue-gee) to describe something that is thrown together haphazardly or on the fly – kinda like fixing a broken toy with duct tape. I think that a lot of what we do as parents is "kludgy" – our best-laid plans often go awry, and we're forced to shoot from hip, improvise and just make it work. And that's how my blog came to be named KludgyMom – it's who I am, how I live, day in and day out.
What can readers expect to find when visiting your blog for the first time?
My SITS post today is TOTALLY my vibe, so SITSahs should skip this and click over! But seriously, I have blogger's ADD. I thumb my nose at the idea that I have to have a niche, so anything goes. I like to write about a lot of different things, but generally, you'll find a lot of humor and a lot of blogging about blogging. However, no matter what I blog about, I try to keep a consistent voice. New visitors can expect a mostly snappish, often neurotic, sometimes sappy take on whatever the topic du jour is.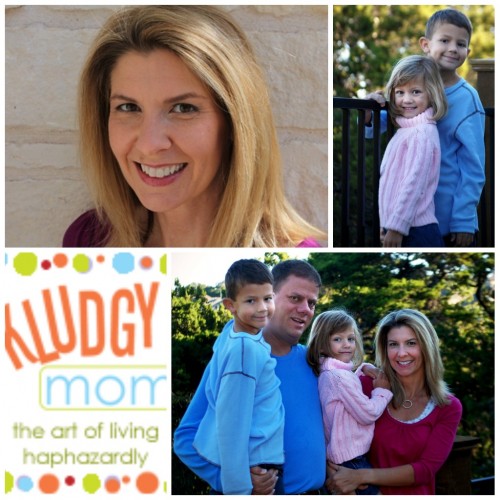 You successfully write for a number of online sites. What advice can you give to bloggers interested in that kind of exposure?
Well, I can share what has worked for me. First and foremost, I try to make my personal blog a "virtual showroom" for what I can do professionally. You don't put a junk car in a Lexus showroom – so I work really hard to make my site easy on the eyes and to produce quality content every time I post. If I commit to write a post, I do it 150% or I don't hit publish.
Second, I only pursue opportunities that involve writing on stuff I'm passionate about. I think having excitement over your subject matter shows in one's writing.
Third, I constantly read extra material on the topics I geek out on to prepare for that next great gig. Finally, I network a ton and make myself open to opportunities. Something Tiffany Romero said at BBC Austin really stuck with me because it's been so spot on: one opportunity always leads to another, and another. Once you get one opportunity, other doors will open, so stay patient.
How long does it take you to craft a post?
I have a motto: to blog is human, to edit, divine. Because I consider each blog post to be an item on my resume, I take a long time with each one. My humor posts often take a few hours to complete. But every now and then, I get a moment of uber-inspiration for a post, and I can bang it out within 30 minutes.
Facebook or Twitter?
Facewhat? 🙂 Um, Twitter. I've openly admitted that Facebook is the ugly stepchild of my blogging. I've had much greater success making connections and promoting my blog on Twitter. Plus, Facebook kind of gets on my last nerve.