This post may contain affiliate links which may give us a commission at no additional cost to you. As an Amazon Associate we earn from qualifying purchases.
You won't find a more supportive military wife than Sarah at Sarah Ruth Today! She held down the fort while her husband served in Afghanistan and continues to roll with the ups and downs that come with military life. Read more about how she copes and how blogging has helped her.

What inspired you to start blogging?
I started blogging before blogging was cool! Of course back then all I wrote about was drama, drama, drama! I WAS only 15! Then it became a way to keep in contact with friends and family. Now, it's a way to keep my sanity in place. Despite my lack of posts lately, blogging is very important to me. Thankfully, my husband understands!
You say your blog is about the ups and downs of your roller coaster life…where is the roller coaster right now?
Honestly, my roller coaster has been low for a while. It started with my husband being deployed to Afghanistan, then kept going with the death of both my grandparents. I'm trying to stay positive right now, but it can be extremely difficult. I am blessed to have a wonderful husband, family, and friends who are all very supportive.
What can readers expect to find when visiting your blog for the first time?
They are going to see a bunch of patriotic stuff! I like to write about being a military spouse. Plus, I'm just dang PROUD to be an American! They'll find some recipes, funny stories, and lots of pictures. And they'll find honesty. I tell it how it is. If I'm mad, I say I'm mad. If I'm giddy, I say I'm giddy! I'm an open book.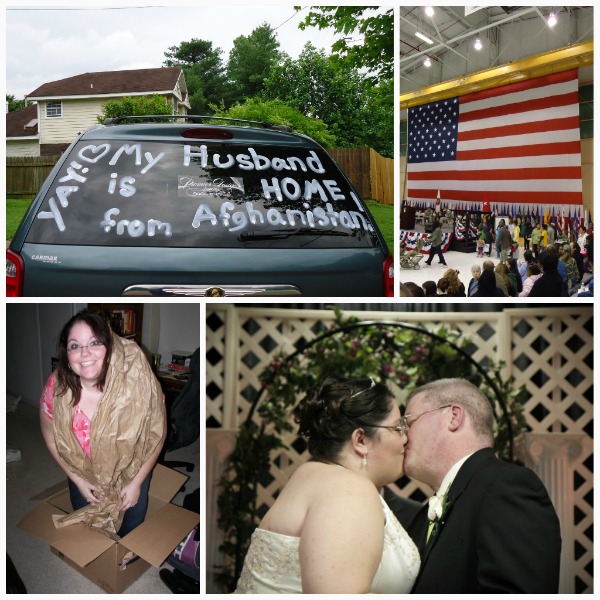 Being married to a soldier can't be easy! What is the hardest part about adapting to that lifestyle?
The uncertainty!! Right now we're going through the unknowns of "Are we moving next month or staying here?" "Is he retiring next year or staying in longer?" It's so frustrating. I'm a planner. I have lists and schedules for EVERYTHING. But the Army hates that. I'm having to learn to be patient (which I hate) and to have faith that God will work everything out the right way.
What advice can you offer men and women who have spouses in the military?
LOVE your spouse. Be supportive. Encourage them when they are down, rejoice with them when they are happy. Remember that they love what they do and they are proud of it, so you might as well be proud too! Remember that communication is key, but they may not understand how to communicate with you. They are in the military, ya know. Also, Learn the acronyms! If they start spouting off ACUs, PCS, PX, CO, AAFES, FRG, MP, JAG, etc, you might want to know what those mean! It can get really confusing otherwise! (In order they mean: Army Combat Uniform, Permanent Change of Station, Commanding Officer, Army & Air Force Exchange Service, Family Readiness Group, Military Police, and Judge Advocate General.)
Missing Grandparents: "Together they were the best example of a loving marriage."
My Dream Wedding: "With only 4 months to plan, we had to move quickly."
Once Upon A Time: "We first met in a chat room. We were both bored. That's probably an understatement."