This post may contain affiliate links which may give us a commission at no additional cost to you. As an Amazon Associate we earn from qualifying purchases.

Kim from The Mommy Machine is a hilarious mother of four little girls, keeping busy in Alaska and entertaining readers with amazing photos and stories of motherhood.
1.) How long have you been blogging and why did you start?
I started blogging in the spring of 2008, so it's been almost 3 years. THREE YEARS! That sounds like such a long time, but I'm currently wearing a bra that's older than that. Blogging seemed like a natural progression of my interests in writing and photography and scrapping, and I wanted to document the extraordinary moments in my otherwise ordinary days of raising four daughters. I wasn't brave enough to tell anyone I knew—not even my husband—that I was blogging. I experimented with different types of posts, teaching myself to upload pictures and videos, and generally nattering on without any repercussions from actual readers. After a long while of writing to myself, a comment from a stranger appeared. The pressure was on! I imagined a vast army of readers shuffling to their computers each morning, coffee in hand, yawning and expecting something wonderful from Kim in Alaska. I try not to disappoint my imaginary legion of walking dead.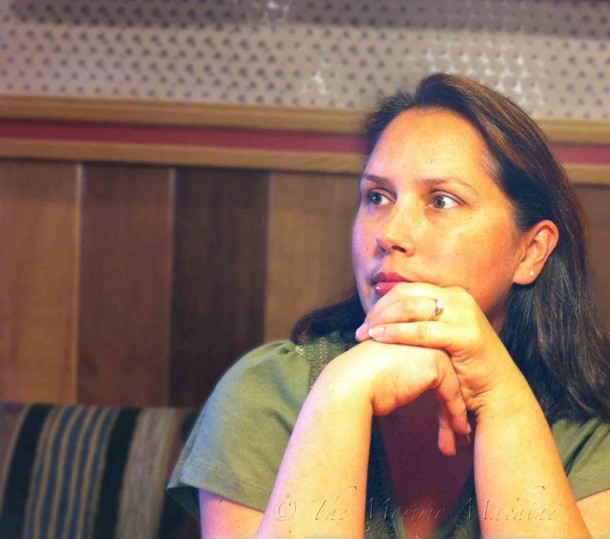 2.) Something unique about your blog is the fact that you live in Alaska. There aren't many of us who can look out the window and spy a moose on our back porch. What do you love about where you live?
People probably think you're exaggerating. You're not! Despite the dumb moose literally walking across our deck, I love the quality of life in Alaska. You can't beat it. Fresh air, unspoiled natural beauty, economic opportunity, great schools . . . the list goes on. I also enjoy the eccentric characters who live up here, my immediate and extended family members making up a large portion of them.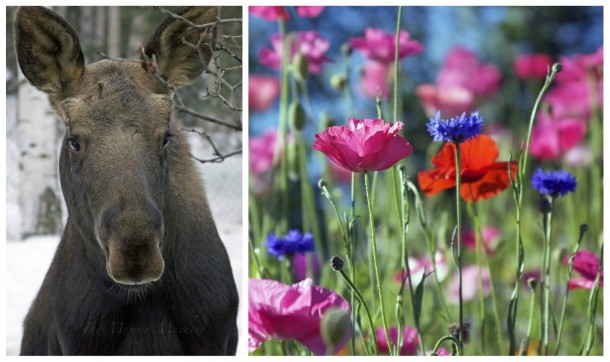 3.) Are there any drawbacks to living in Alaska?
It is the most perfect state in the union. Unless you don't like long winters. Or feeling isolated from the rest of the country. Or buying mushy peaches that are labeled "fresh."
4.) You're also a mom to four! How do you manage blogging while wrangling twins and a couple onesies?
I wake up at 5:30 a.m. to blog. It's the only time of day when I can concentrate solely on my writing. "Writing." That makes me sound more professional than I really am. I sit at the computer and dink around in iPhoto, okay? Once 6:45 a.m. arrives, I'm off and running. I use my twins' naptime to read and comment on others' blogs.
If you were giving a first time visitor a tour in your neck of the woods…what would you plan for them?
I'd drive them to one of the most spectacularly beautiful spots on earth: Homer, Alaska. There, I could offer them as wild and rustic an experience as they'd like—taking a boat across the bay to camp, fish, hike, pick berries, and photograph wildlife—or provide as calm and restful a vacation as they might need—strolling through art galleries, visiting funky little shops, eating at wonderful restaurants, or just sitting on the beach to watch the waves break over the rocks while eagles fly overhead.
Go visit The Mommy Machine and revel in her Alaskan photography and stories of motherhood!