This post may contain affiliate links which may give us a commission at no additional cost to you. As an Amazon Associate we earn from qualifying purchases.
Andrea from Multiple Mama has just added a brand new baby to her crew! Be sure to stop by and give her some new mama (for the fourth time) love!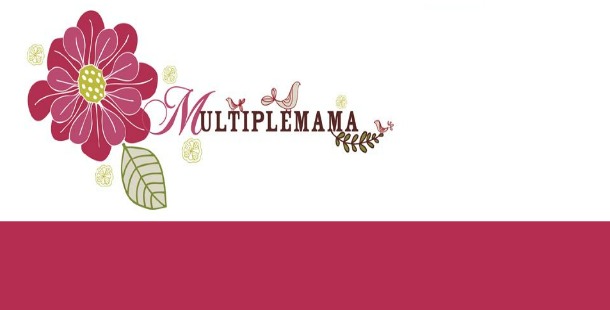 How long have you been blogging and what inspired you to start?
I have been blogging a little over a year and a half. I started back when all of my kids took the same afternoon nap. And I had some semblance of quiet in the afternoons. I actually was inspired to start when my mom saw DOOCE on Oprah.
And then along with a few million other viewers decided her daughter (me) with an interest in writing could easily do the same. So, she called me and said just that. Figuring I might be able to fund a trip to Hawaii or two for my family with this project, I jumped in. And quickly realized it is not quite that easy. But, the occasional "free sample" is cool. And I have sold one copy of someone else's e-book as an affiliate advertiser. Not quite enough to get the six of us to Hawaii just yet. But, it's a start. Go me! 🙂
What can readers expect to find when visiting your blog for the first time?
Just like my life, every day is different. Somedays I may be ranting about the news and other days I may be writing sappy poems about my kids. I even write the occasional review and have a giveaway here and there. I know there is a lot of talk about finding a niche and a voice for your blog and sticking to it. But I've decided my blog is mostly for my own enjoyment. And writing by the seat of my pants, or from whatever mood I'm in that day satisfies me more than trying to fit into a box I've constructed for my blog.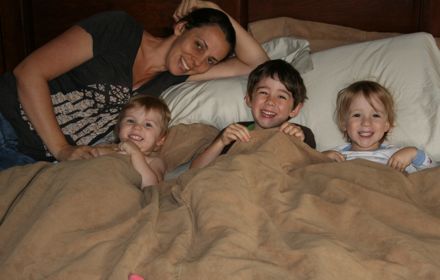 You have twins! How did you survive their infancy?
That was a marathon in mothering to say the least. My son was just twenty-six months when they came home. So, having three under three was a test of my endurance, patience, and ability to survive sleep deprivation. Luckily, my mom had been through almost the same thing. My twin brothers were born when I was just three and a half. So, she was ready and willing to help as much as she could. And I joined my local twins club chapter before they were even born. Which I encourage all mothers of multiples to do ASAP. Even if not just for moral support but the excuse to get out of the house one or two nights a week with no kids and a group of women who get what you are going through. And as an added bonus they will forgive your messy house, unwashed hair, and unbrushed teeth without question.
What is one thing you miss most about life before multiple kids?

Just one? OK. The ability to go out to dinner on a whim. It now takes at least twenty-four hours of planning. Schedule a babysitter (my mom) clean the house, make dinner for the kids and my mom etc. etc. I did not appreciate picking up and leaving the house with just my purse nearly enough before this whole motherhood gig began. Now if my husband and I want to have a quiet evening alone we take the kids to a McDonalds with a Playland. We don't have to yell at anyone to sit down and be quiet. They run like mad and then eat their dinners in the car on the way home!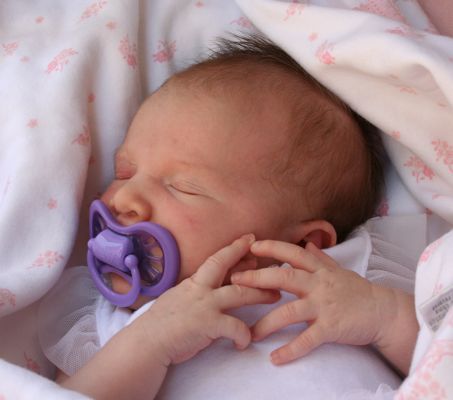 Speaking of babies, OMG you just had a little girl!?! Congratulations and really…how are you holding up!?

We are all hanging in there fairly well. Or at least until around three o'clock in the afternoon. Which my pediatrician calls "crabby time". The kids handle it pretty well but I could really use a nap, or a drink. But, neither one is usually advisable when alone and in charge of four small children. We just made it through our first trip to the grocery store, just the five of us. I sometimes think I'd like to stop and ask a looky-lou (sp) or two what they're thinking when they stop and stare. Is it my teal green crocs? Or the fact that they don't match my bright pink nursing top? It couldn't possibly be the fact that my shopping cart looks like it could be a parade float full of kids, could it? But, I haven't even got a second to slow down let alone speak to another adult during these field trips.
Other popular posts from Multiple Mama:
Coming Home: "I made every deal with God I could think of as I drove knowing what the ER staff would say."
From Diapers to Rocket Science: "As a SAHM of three, soon to be four, a temporarily retired teacher, a former student of the public school system, I was actually beginning to wonder if I fit in here."
Ten Reasons You Know You Are A Mom:"You have a sunburn for the tenth day in a row because you put sunscreen on all the kids but forgot about yourself."