This post may contain affiliate links which may give us a commission at no additional cost to you. As an Amazon Associate we earn from qualifying purchases.
Laura is the brilliant brain behind Olive and Love, a site where she not only writes about the joys of motherhood, but where she can also put her hobbies on display. Her hobbies include,  "furniture redesign, thrift and garage sale hunting, photography, fine art painting and the constant habit of re organizing closets"…how's that for exhausting??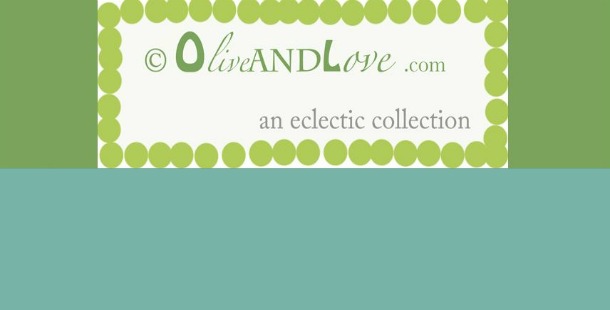 What inspired the title of your blog?
Green has always been my trademark color. The feeling of green is comforting and relaxing, like the words LOVE and HOME. I'm probably breaking rules by having no representation of my blog's purpose in the name, however olive is a lovely color! I'm not sure how I came up with the name Olive and Love but I do remember playing with the domain search at www.no-ip.com until what I found to be available clicked with a spark of creativity.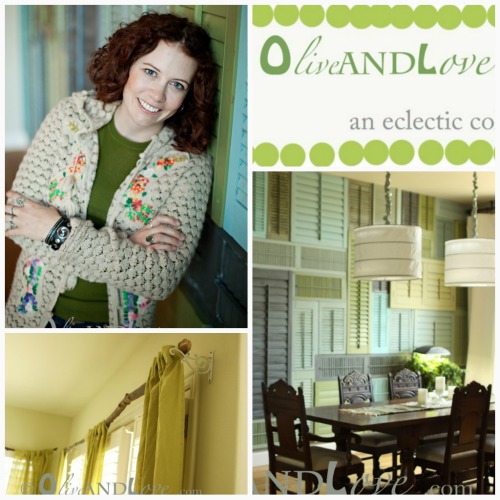 If you had to describe your blog in one sentence, what would it be?
Olive and Love dot com is an eclectic collection of creative and useful projects for home and family life.
Can you share one of your favorite projects with us?
My current favorite project is my ceiling mounted bed canopy. My bedroom is rather large which makes it difficult to achieve the feeling of coziness I prefer. I wish I could cut and paste some of the space into my laundry room! I encourage others to imitate this inexpensive project, even in a smaller space, as the result is royal and romantic!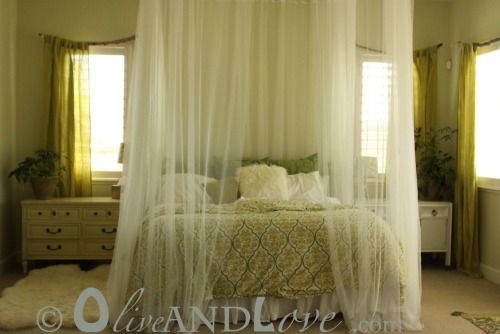 What do you do when you start feeling burned out?
Finding time to schedule writing for my blog every week is challenging. Some weeks there are more than one and I'm hesitant to admit that there have been weeks with out as well. I feel guilty that I haven't focused enough on networking and building my blog, and admire bloggers who also comment on other blogs and join in link parties (which i have yet to really figure out….will someone please explain a link party to me?) Guilt is my weakness and if I let it overwhelm me then I'm left feeling burned out. That's when I remind myself that in my spare time of being a mom of three, I like to design, volunteer at school and figure out more efficient ways to organize the chaos in my home. Blogging comes second to that as a way to share those projects with others.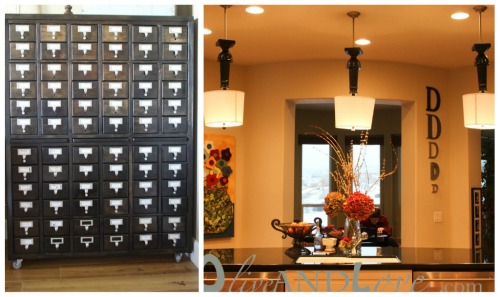 How in the world do you balance your blog, projects, and family life? What's the secret?
I acknowledge that finding balance is hard work and each obstacle is a lesson from which I grow.
When I look around at my home and life I have to appreciate the projects that are complete instead of the holes that need patching. I must focus on the hugs and kisses that my kids give me instead of the times I have to carry one of them in public, under my arm, kicking and screaming!
I take small moments through my day to visualize the love in my heart and to thank God for his blessings.
Other popular posts from Olive and Love:
Ceiling mounted bed canopy
Shutterwall
Necktie eyeglass case