This post may contain affiliate links which may give us a commission at no additional cost to you. As an Amazon Associate we earn from qualifying purchases.
Our featured blogger today is someone we had the pleasure of meeting in person at the Bloggy Boot Camp in Austin, Texas last year. Priscilla is everything she appears to be on her blog: smart, funny, and engaging. A 30-something paralyzed, stay-at-home Mom with two boys, a husband and another baby on the way, Priscilla uses her blog, Wheelchair Mommy, as a way to encourage others.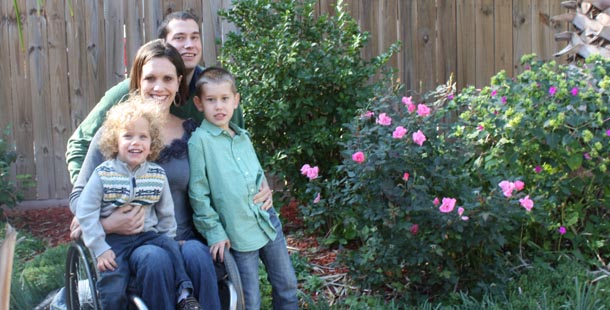 Tell us your story.  How did you become paralyzed?
I was 18.  It was 1999.  I was in my first fall semester at college and I had just moved in with my best friend.  I remember the day quite clearly.  I got off work around 4 p.m.  I worked at a big box place.  (I won't say where because I don't want to give them free advertising.)  I arrived home and wanted a nap but as soon as I got in bed I realized my dirty clothes were overflowing.  I called my sister-in-law and asked if I could head over and wash.  She said she wasn't home but with some friends and if I could come hang out with her and then go wash.  I thought that could be fun.  My bestie was home by then and decided to come with me.  We all hung out for a little bit and then decided to go somewhere else.  I think it was a little swimming spot.  I'm not sure why that detail is blurry.  We all headed to the car. There were 6 of us.  My sister-in-law's car had room for 6  so we choice to all ride together, but she had been drinking so my friend said she'd drive.  I almost got in the car behind the front seat passenger but at the last minute sat behind the driver's seat.  I was not wearing my seat belt but until recently how many adults did while sitting in the back?  We were cruising down a country road and I clearly remember looking at the clock but, 11 years later I can't remember exactly what it said.  I know it was either 5 or 7 and somewhere between 25-35 mintues after the hour.  It's funny the details we remember and those that we forget, isn't it?
Anyways, just moments later, my sister-in-law yanked the wheel out of my friend's hand and we were headed around a curve.  There was another car headed in our direction and we collided.  They hit directly where I was sitting (that's why I mentioned the detail of where I ALMOST sat) and I remeber very clearly hitting, bouncing and rolling.  Everything was in slow motion.  I remember everything,  but felt nothing.  Then everything went quiet and I heard screaming and crying.  My friend found me and sat with me until the ambulance arrived.  It took them a while, so by then I was hurting.  The ride to the hospital was very painful.  I didn't stay there long and was transferred to UTMB in Galveston later that night. I could go on because I do remember about an hour of details of that but I won't.  Maybe I'll make that another post for another day that I can add to my story page.
After reading your blog, what struck me most is that your wheelchair is a part of your life, but it hasn't stopped you from living your life.  Name three things on your bucket list.
I don't really have a bucket list.  I just told husband I didn't have one.  He looked at me and said, "you don't have a bucket … well, I don't either."  Then he said he did have one thing, but it was completely unreasonable.  He would like to sail across the ocean.  We have the boat capable of handling a trip of that magnitude but no time and it's just not practical for ME or the kids.  I guess it's not entirely true that I don't have a bucket list.  There are lots of things I'd like to do.  Someday.  Just nothing that really stands out over everything else.   You can find my day zero project somewhere on my blog, but even that fizzled. Why don't you tell me what's on YOUR bucket list and maybe I can make one?  That might make another excellent blog post.
Your uncensored FAQs are wonderful…real, funny, and a great insight into who you are.  What's the most common question you receive?
That would probably be how or why.  Possibly, can I pray for you.
We understand that congratulations are in order!  Can you give us a sneak peek at the big secret you'll be revealing on your blog today?
Here is a hint:

Head over to Priscilla's blog today. I can promise you that it will be time well spent!
* * * * * * * * * * * * * * * * * *

Special thank you to Storkie, one of our latest sponsors here on SITS.  If you are in the market for wedding invitations with style or hip and fun bridal shower invitations, then look no further!