This post may contain affiliate links which may give us a commission at no additional cost to you. As an Amazon Associate we earn from qualifying purchases.
Joining us today for our SITS Girl in the Spotlight feature is Michele from Papoe, a blog that peeks at parenthood from the flip side.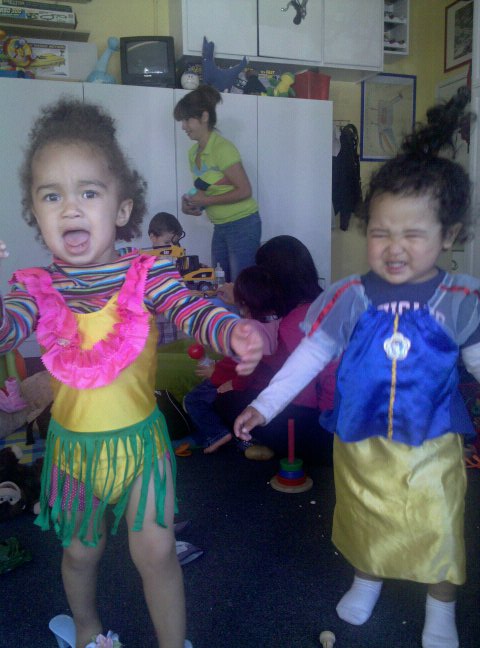 Michele is sharing a picture of her lovely daughter Jocelyn (on the left) and her best friend Ava.
Dress up is becoming a mandatory part of our weekly playdates.  There's also a personality emerging from Jocelyn that I didn't know existed — that of a girly girl.  This past week she wore clip-on earrings and each time one fell out she ran over to insist that it be put back on.  This is a double-edged sword.  It makes me excited for tea parties (especially those that involve Khary) and yet it makes me fear her teenage years…"
– August 10, 2010, Papoe
Check out Michele's blog for more on her perspective on parenting — one that includes solving the mystery of identity in curly hair (mixed babies), climbing the heights of milestones (preemies), meeting your match before breakfast (marriage), and what to do when you realize you're out of wine (the cruelty of life).
And since it's Saturday and I am feeling particularly saucy, let's start up Sharefest Saturday, with a twist.  Like always, leave a link to your favorite post that you wrote this week in your comment.  Once done, visit the SITStah directly ahead of you in roll call and say hello.
The catch is that we'll now be leaving the Sharefest open on both Saturday and Sunday going forward.  If you miss commenting today, then don't worry.  You'll still have time to play along tomorrow.
We'll even give our new game a new name…Weekend Sharefest!
Enjoy!