Joining us today is a blogger I personally find incredibly inspirational. Her name is Alyssa and you can find her at She's Mommafied. Her journey as a mother has not been an easy one, filled with both a miscarriage and postpartum depression. BUT, she has survived both experiences, finding strength and support through her blog.

How does the woman you are today differ from the "sarcastic, bossy, Oreo eating, hip hop listening, Twitter addict" from your pre-baby days?
Those characteristics are just as present now as they were before I was a mom! I still am, and hopefully always will be, quirky and outspoken and free spirited, because I've made it my mission to  bring who I truly am to the table as a mother. Yes, my priorities have changed and I can handle way more diaper changes than I can tequila shots these days, but I certainly haven't lost myself. I'm far more mature and responsible than I was just a few years ago, but I'm still a human being, and I'm totally OK with my daughter knowing that and learning how to be true to herself too!
You are very open on your blog about the terrible loss you suffered when you miscarried.  How has writing about your grieving and healing process helped you?
If I didn't turn to blogging during that very dark time in my life, there's a good chance that I wouldn't be a blogger at all today. The Internet, which seemed at first like my desperate attempt to find someone who could understand what I was going through, turned into my livelihood! I have been able to connect with thousands of women and even create bonds with some other mommy bloggers that I now truly consider my bests friends. Right at the tips of my fingers is a world of women who know, who care, who are real, and are willing to cry with you when the world isn't on your side. The writing itself has helped me get things off my chest, but what has truly helped me heal is the interaction that comes along with blogging.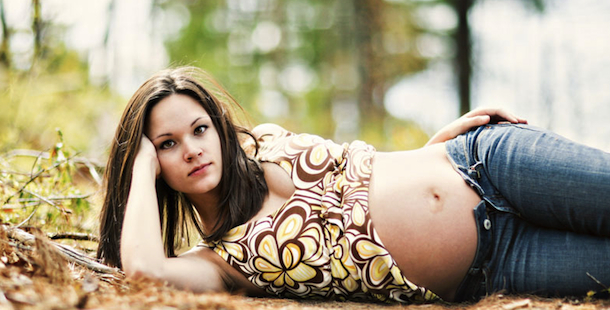 What are some of the natural parenting methods you've decided to pursue for your daughter, Lyla? Why are these decisions important to you?
I believe that the use of medical interventions is often excessive. Of course, medicine is wonderful when it's needed, but many people are losing confidence in their body's ability to do much of the work for them. It was my goal to bring Lyla into this world as naturally as possible, and I've made strides to keep her close to nature since she was born. Breastfeeding and baby wearing have been huge aspects of her life, with no end in sight as of yet! We started using cloth diapers when she was 7 weeks old, and we follow Dr. Sear's alternate vaccine schedule with a few minor adjustments. I do my best to feed her organics, and I'm conscious of the ingredients in products I use on her skin. I'm far from perfect. We use disposable diapers at night and when we're out and about, and I use FAR more paper towels than I should. I don't break my back trying to be "crunchy" or "green", but I embrace natural parenting AND natural living methods that are a good fit for our family.
Tell us about your experience with postpartum anxiety.  How are you doing now?
Postpartum anxiety was a living nightmare that I never saw coming. It took the strong, confident, independent woman that I was and crushed her into someone that couldn't eat, couldn't sleep, couldn't leave the house and felt like she was doing everything wrong. I was terrified. I honestly believed at the time that I would never feel OK again, and feared being hospitalized because of malnourishment and extreme exhaustion. I knew that my only hope would be getting professional help. After a few weeks of counseling and medication, I was starting to come around. I connected with other PPD moms on Twitter and got a great deal of support as I was trying to navigate through a really scary time. Thankfully, I made it through and was soon able to be the mother I wanted to be. I still take medication, and I've learned that that's nothing to be ashamed of!
More from Alyssa at She's Mommafied:
Empowering Women: Alyssa's message is simple: Be confident with who you are as a mother, mistakes and all.
In Case You Thought I Was Sane: Laughing so hard that your stomach muscles hurt is a good thing.
Don't JUDGE Me!: Let's not kid ourselves. Judgments are natural.