This post may contain affiliate links which may give us a commission at no additional cost to you. As an Amazon Associate we earn from qualifying purchases.
Let's give a big SITSterly welcome to Ally, the blogger behind The Mommy Diaries. Ally uses her site as a channel to voice her opinions as a mom. After all, with all the products out in the market right now, it is always hard to decide what's good for you and your family.
We see that congratulations are in order! You're pregnant with Baby # 2. Yay! How are you feeling?
Thank you! With less than a month to go, I am surprisingly pretty calm right now. Not exactly sure why. Maybe it's the calm before the storm.
How is this pregnancy different from your first?
Both my pregnancies were great. This time around, with great management and help from my doctors, I have been able to avoid conditions that I experienced during my first pregnancy, such as back pain, sciatica, fainting spells.
I am also pretty relaxed with this second pregnancy. No more pregnancy books or reading through pregnancy related sites every single day.
It looks like you've been doing product reviews for years. How did you get started?
To be honest, I started by joining as many blog giveaways as I had time to. Then the light came on and I thought, "If they could do it, why can't I?" It was hard dealing with the rejections at first, so I started writing reviews for products I already had and was using. Then I started to slowly contact companies and PR firms again. Every YES outweighed all the NOs that I got and it just went forward from there. Now I have companies contacting me to do reviews and giveaways.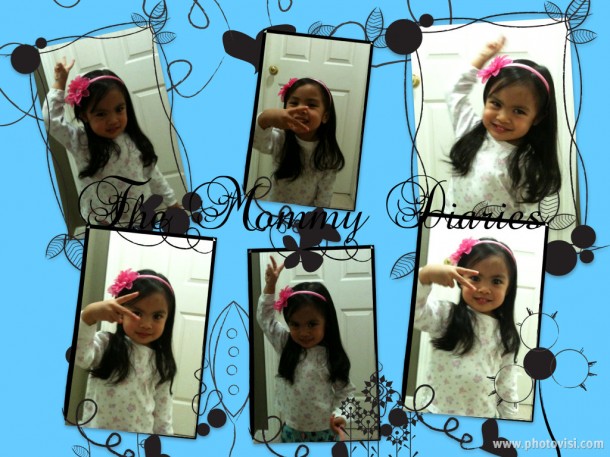 Your media kit is really well done. How have you been able to successfully monetize your site?
Right now all I've really been able to do is write sponsored posts for a couple of companies. I haven't been able to actively pursue trying to monetize my blog, but am looking to change that in the near future. I have joined a few affiliate programs, but have not added their widgets in my sidebar.
Other goodies on The Mommy Diaries:
Blast From the Past: A get to know Ally post.
This is Why…: Funny story with Ally's daughter. Well, not so funny at the time.
My Little Asian: Ally loves featuring her daughter!