New to SITS? Welcome!! Go read this to get started.
Today's featured blogger is God's Favorite Shoes.
Tiffany: She wrote a post about how SITS might get her on Oprah. I LOVE THIS!! It could happen.
Heather: Oprah totally reads SITS. I think this sassy blogger should expect a call any minute now.
We are coming to Baltimore! Join us.
Want to subscribe to SITS and get an email each time we post? Just click here.
And, as always, when you see this: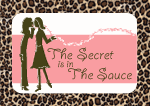 LEAVE A COMMENT.