This post may contain affiliate links which may give us a commission at no additional cost to you. As an Amazon Associate we earn from qualifying purchases.
New to SITS? Welcome!! Go read this to get started.
Last week, one of our featured bloggers had her day cut short due to human error and we felt like she didn't get to experience the full force of the comment love she deserved. We would like to give her a chance to finish out her day in the sun.
So, please go read I Love My Five Kids and leave her lots of lovely comments.


Want to subscribe to SITS and get an email each time we post? Just click here.
And, as always, when you see this: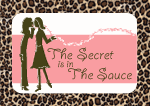 LEAVE A COMMENT.