This post may contain affiliate links which may give us a commission at no additional cost to you. As an Amazon Associate we earn from qualifying purchases.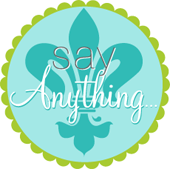 DrayaAnn from Say Anything is an adorable mom to be! She blogs about anything and everything that's on her mind and then some…
Your blog name leads me to believe your site is a place where you can literally, say anything. What makes your blog different then most?
I decided on the name Say Anything for a few reasons. Say Anything is my most favorite movie of all time and I always thought, besides being the best movie, the name was just perfect and that I related to it somehow. Another reason I wanted Say Anything to be the name of my blog was because I wanted to have a blog that didn't pigeon hole me into one type of writing. I wanted a place where I could come and just say whatever was on my mind. If it was rambling on a Monday or posting things I found on Etsy that caught my eye, I just wanted Say Anything to be a place I could put it down. I think Say Anything is kind of a jumble of different types of blogs I've seen out there. I write about my life, what I love, what I don't love, cute things I find, and basically anything that pops into this head of mine. I guess it's different than other blogs in that it's not just one type of blog. It's a place where you can come and I may be all over the place, but hopefully, there is something you can relate to or find pretty.
Why did you start blogging?
I originally started blogging on back in 2007 when I was in the process of planning a wedding. I had a little blog that I loved, but once I was married, it kind of lost its luster and I decided to shut it down. After a few months of not blogging, I realized I really missed the outlet that blogging can be and decided to start a new blog that was about anything and everything. And it was the best decision. I remembered how much I liked blogging and how much I loved the community of people that comes with blogging. I love reading other blogs and commenting. It's rewarding and exciting when someone comments on something you posted. There have been times when I have terrible bloggers' block but something always brings me back to blogging. I guess it's just a part of me now.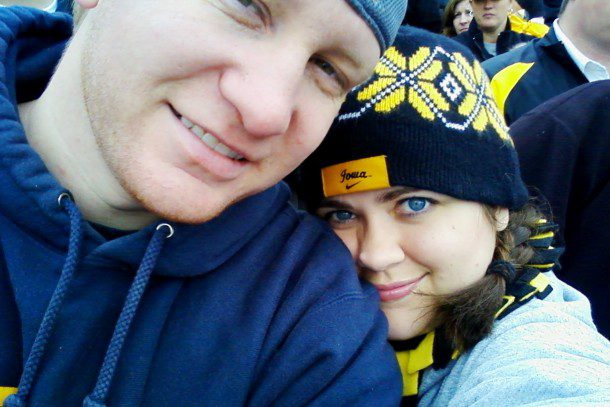 What are you busy doing when you're not blogging?
When I'm not blogging, life is pretty laid back for me. My husband and I are die hard Iowa Hawkeye fans, so every August through November we can usually be found driving between Illinois and Iowa for a football game. My husband is from Iowa, so we get to visit with family there and cheer on the Hawks.  It's a win win for us! I also play mommy to a gaggle of kitties who drive me nuts and make me crack up all the time. My life is about to change in less than two months with the impending arrival of our little boy, so things will be very different soon! And I can't wait!
Congratulations on your pregnancy! It's been an eventful one, what's going on?
We have been trying to get pregnant since we were married back in 2008.  It has been a tough road getting here. I had a horrible ruptured ectopic pregnancy that almost took my life a year ago, but we pulled though and are 100% focused on this little boy who should be here at the end of April.
This pregnancy has been a tough one for me. It feels like one thing after another has happened to test how strong I am, but we've come this far and there is no turning back. I've been dealing with high blood pressure, super high protein levels, endless blood tests, horrible bouts of dizziness that make it hard for me to even walk on my own, bed rest and now gestational diabetes. It's a lot to handle and it makes you worry a bit more than you'd like to, but my husband and I have both agreed that we'll do anything the doctors say to do to keep our little man healthy, safe and sound.
For now, it's a lot of sitting on the couch, watching what I eat, and doctor visit after doctor visit. My official due date is April 28, but, as of our last doctor's appointment, no one really knows when this boy is going to make his grand entrance. Given all the health issues, it's kind of up in the air if he'll be willing to stay in there until my due date. I tell him to just hang out in there a little while longer because it will be well worth his wait.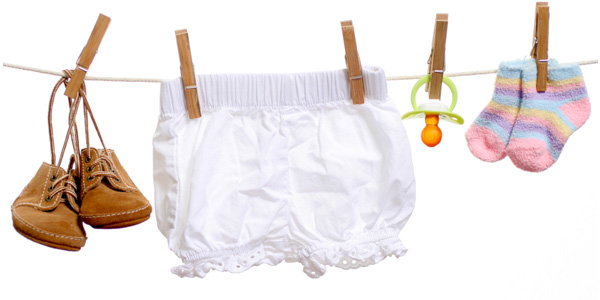 What advice can you offer other women who are experiencing what you are experiencing?
This pregnancy has been a true test of patience, nerves, and trust. There have been many moments where I break down and let myself worry and be upset that things haven't been perfect, but I know that once he is here in my arms, it will have been worth every single problem that has come up. For anyone who hasn't had the "perfect pregnancy" and is going through anything like I have, the best thing to have is a support system that has your back. I know I could not have done this if my husband wasn't there with me for every appointment. He has taken the most amazing care of me and has held my hand through it all.
My family and friends have also been amazing. They don't mind that I have a few more complaints than usual and let me just put it out there that I feel awful at times and need to cry, scream or laugh. The only other advice I can give to someone else is to remember that at the end you get the best reward possible. That thought makes it all okay to me.
For more DrayaAnn just being herself, kinda all over the place, be sure to check out:
What would you do if you could have any job in the world?: DrayaAnn's list of possible jobs will make you smile the whole way through.
Thirty: To some, turning thirty might be something to be sad about, but DrayaAnn has an outlook that is sweet and refreshing.
Yay & Nay: The ups and downs of pregnancy…it's never as easy as it looks.
Give DrayaAnn some extra love today…any woman confined to bed rest deserves additional support!
**********************************


Special thank you to FarmaSea, a longtime supporter here on SITS and the creator of Super Sea Veg supplement, the most powerful multi-vitamin in the world.  Follow @FarmaSea on Twitter for great conversation around health, living well, and feeling your best.