This post may contain affiliate links which may give us a commission at no additional cost to you. As an Amazon Associate we earn from qualifying purchases.
New to SITS? Welcome!! Go read this to get started.
If you've ever stopped by her site, then I think you'll probably agree that today's featured blogger is someone who should be in most blogrolls.  Jill from Scary Mommy writes posts that always leave us wanting more.  Funny, sarcastic to the core, and a mom to quite possibly some of the cutest kids on the planet, I rarely miss one of her posts.  It's these things that make her an amazing blogger and my friend.
Back when I first started blogging, I had very little idea what I was doing; let alone how to drive traffic to our site.  I'd labor over a post, hit publish, and then continually refresh my page, wondering why on earth people weren't flocking to our blog.  What was wrong with the world?  If they would only read what I had written, they would see how funny/witty/creative/original I was and never want to leave.
But blogland is somewhat of a crazy place.  The phrase, "If you build it, they will come" doesn't always apply.  Something along the lines of "If you build it, Tweet it, Facebook it, BlogFrog it, comment, comment, and then comment some more, they may come" is probably more accurate.
If someone were to ask me for one piece of blogging advice, my answer would be simple: Find bloggers who can help you become something better and follow them.  Alone, you can only do so much.  However, by reading websites that provide you with the how to's and inside tips on all things social media, you can make the leap from a good to great blogger.
Jill helps others do just this.  In addition to her Scary Mommy Society where she features guest bloggers, she also goes the extra mile and shares all that she has learned…
Twitter Etiquette: A Guide to Getting Unfollowed – If you fall into the Lazy Bones, Annoying Famous People or The Sketch Balls categories, chances are that Jill won't be following you.  And others probably won't be either.
Is Your Blog Making People Sick? – You may not know it, but your blog could be detrimental to the health of your readers.  Are they complaining of vision problems, dizziness or headaches?  Jill reveals that your blog could be the cause.
The other reason Jill is a permanent fixture in my blogroll is for her unending supply of ideas and answers.  Whether you're looking for tips on how to build a Facebook Fan Page, make your blog into a book, or survive BlogHer, she's there to act as your guide.
And she does this not only on her blog, but also in her job as the community manager for Nickelodeon's Parents Connect website.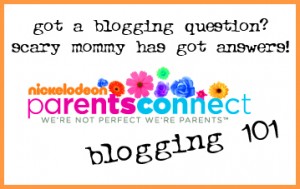 For the month of July, Jill is even leading an event dedicated to blogging.  Each day, she features a new blogger who shares tips on how to improve your blog.  It's a great forum to showcase your site, make new connections, and learn about everything from blog templates to how to create your own community.
Jill's my one stop shop!  And she could probably be yours too.