This post may contain affiliate links which may give us a commission at no additional cost to you. As an Amazon Associate we earn from qualifying purchases.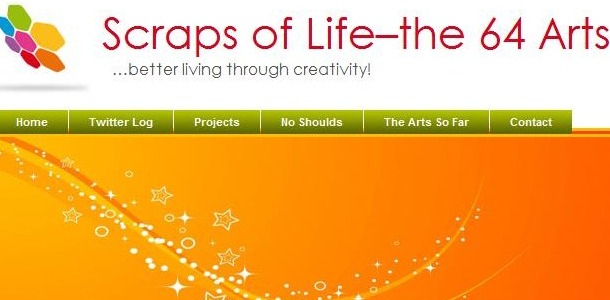 Jennifer from Scraps of Life believes in "better living through creating" and her blog is a great representative of her different talents.
How long have you been blogging and what first inspired you to start?
Since 2003; Neil Patrick Harris. (Oh, c'mon, wasn't anyone else absolutely jealous of the boy-wonder Dr Doogie Howser and his computer journal? Am I dating myself?)
When I bought my first domain in 2003 I did 2 things with it: started a blog and opened up a store. The store didn't last too long (it was a project for an Internet Business class) but the blog has hung around in various forms since then.
Last year (February, 2010), when my stint as Arts & Crafts Expert for eHow.com ended and I had time on my hands for my own work, I got the itch to tackle a project I'd be meaning to do but hadn't made time for: explore each of the 64 Arts as listed in the Acquisition of Knowledge chapter of the Kama Sutra (there's more to that book than most folks think). Sure, I could have done it on my own but, hey, I had a blog just sitting there collecting dust! That's when Scraps of Life began to play host to the 64 Arts.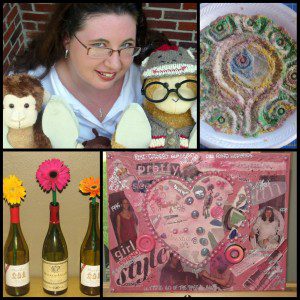 What can new readers expect to find at your site?
Wanderings through a variety of creative topics, art projects, tutorials and (hopefully) helpful pieces of information that you never realized you needed to know.
Even though the 64 Arts is a fairly straight-forward list of accomplishments, I'm taking my own sweet time to work through them (which is why, after a year, I've only covered the first 16!), following tangents and rabbit trails as they come up. Right now we're finishing up the fashion section (cluttered closets and shoe addictions abound!) and about to head into jewelry–expect some projects and giveaways, then!
You clearly have a passion for drawing as well as writing. Can you explain how you got into that niche?
I was always drawing, painting or making things with scraps of fabric or paper as a kid. Once I painted a spare telephone–I think I was 13 or so?–with people talking on the phone a la a very meta-Lichtenstein. (Mom wasn't exactly thrilled.)
I didn't get into comics until I was in my mid-to-late-20s when I was introduced to webcomics and realized that–wow!–comics weren't all about muscle-bound superheroes: they could be about real people, doing real things. My first comics were absolutely cringe-worthy, skill-wise (despite good grades in college-level watercolor and figure drawing classes… just goes to show that cartooning is harder than it looks), but I kept with it and found my groove as that first year continued. Currently in Year 4, it's had format changes, a name change, and a dozen or so style changes: it's my proving ground for trying new things. Along the way I've had comics published in independent comics magazines, co-illustrated a gaming book, tabled at several conventions (meeting new readers in person is just as addicting as getting comments on the blog!) and am now working on a comic book cookbook that will be out later this year (I hope…oh, please, let me finish it this year!) and a graphic novel project waiting in the wings.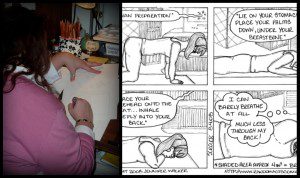 What is your ultimate goal for your blog?
To encourage others to try new things, learn more every day, and to show new or different ways of approaching the day-to-day minutiae. In other words: Better living through creativity… and cocktails!
You've written about a shoe fetish you have…if you had to choose ONE pair of shoes to keep, but had to give the others away…which would you choose?
Oh, wow, at first this seemed like a really tough question. To keep only 1 pair and ditch the rest? Despite the cruelty of even suggesting such a thing…
My black boots. They work with so many outfits, are mid-heel so are easy to walk in (they are a favorite convention shoe for this reason) and it would be next-to-impossible to find ones that fit me as well.
Other popular posts:
Embrace the Insanity: Learn about what you stand to gain by dancing.
How Ap-peel-ing: This is fancy…I'll never look at a lemon peel the same.
Deep Breaths and Shallow Thoughts:Quick meditation is something we're all capable and the benefits are endless!
Stop by Scraps of Life and give Jennifer some comment love today!