Genny lives in California with her husband and two kids, where she balances writing with motherhood and loves both. She's an author, blogger, book reviewer and coffee lover. Stop by her blog, MyCup2Yours, and share a cup!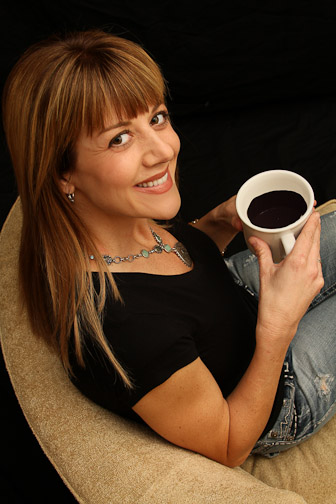 What inspired the title of your blog?
I love getting together with friends over coffee and sharing what's going on in our lives. When I started MyCup2Yours, that was my thought; I wanted to create a place where people could get together and "share a cup," finding encouragement, tips, and inspiration.
What can readers expect to find when visiting your blog for the first time?
Hopefully a comfortable place they can settle in, feel at home, connect with real-life stories about being a mom, and find helpful parenting articles or other tips about writing, books, food, health, family, faith, and friendship!
You are actually quite an accomplished writer. Can you share some of your favorite sites to contribute to?
You are sweet. Writing has become such a part of me; I can't not write. I especially love taking everyday experiences or snippets of life and putting them into words. (Words are so powerful!)
Some of my favorite sites to contribute to? I've been writing / editing for www.5MinutesforFaith.com for a couple years now and I love that site (it's a sister site to www.5MinutesforMom.com). I've also shared part of my personal story (about my struggle with an eating disorder when I was in college) over at www.(in)courage.me, another very inspiring site. www.Mamapedia.com is another place some of my posts have been published and it's a really good website for moms. I also love writing for www.SacramentoParent.com, a great online resource and print magazine for both moms and dads.
What inspired you to jump into the world of social media to begin with?
When I first started MyCup2Yours, I had been writing specifically in the children's genre for years, but every once in a while, an idea for a parenting article or story would pop into my head. I'd get on the computer, write it out, and file it away, not sure if I'd ever do anything with it.
Then, a few years ago, as I got more involved in mentor programs for moms and parenting groups, I felt a strong pull on my heart to dig those articles out. A friend of mine with online experience recommended I start a blog and post my writings there. So that's what I did. MyCup2Yours began with a few parenting stories and articles, but when I saw the response and how many moms were finding connection and support online, I jumped in with both feet. And I'm so glad I did! I truly appreciate the friendships and connections I've made through blogging, and the doors that is has opened. It has been an amazing journey.
What advice can you share with bloggers who want to make money writing for a variety of sites?
Just start. Don't be afraid to send writing samples or submissions to websites or magazines that you'd like to write for. And write because you love it, not to make money. It's a tough industry, although there are many freelance opportunities out there. My recommendation would be to pick a specific area of expertise that you want to write about (parenting, gardening, cooking, etc.) and start with detailed research to find websites or magazines that pay for articles in that area.
Investigate which sites/magazines are looking for submissions, target your submissions to the appropriate ones, and be open to writing for free at first; it can be a great way to get your name out there and build your resume. Even things like writing for a local newsletter or guest-posting on someone's blog can give you valuable experience and exposure. I talk to people all the time who say they wish they could write something… someday. I say start now, even if it's just ten minutes a day, or an hour a week. You never know where it will lead!
Go have a virtual cup with Genny at  My Cup2Yours today and spread the comment love on some other popular posts:
Little Bits and Pieces of Happiness
Some days, Parenting is Hard
A Man Named Ted