This post may contain affiliate links which may give us a commission at no additional cost to you. As an Amazon Associate we earn from qualifying purchases.
New to SITS? Welcome!! Go read this to get started.
Today's featured blogger is Keep In Touch With Mommakin

Heather: Her post about wandering the grocery store on a Saturday night. Yeah, I know how that goes. There was an evening in the Wal Mart that is still horrifically fresh in my mind.
Tiffany: Remember that one time when we trolled through Home Goods on a Friday night? We're so cool that way. This blogger is our people.
SITSmas is coming!!!! SITSmas is coming!! There will be no figgy pudding, but it'll be a party to make old Fezziwig proud. If you have no clue what we're talking about, go brush up on your Dickens trivia and plan on being here. There will be TONS of things to win and all you have to do is leave us a comment! December 8th is the day and the party starts early.
Want to subscribe to SITS and get an email each time we post? Just click here.
And, as always, when you see this: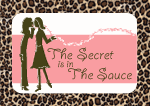 LEAVE A COMMENT.