This post may contain affiliate links which may give us a commission at no additional cost to you. As an Amazon Associate we earn from qualifying purchases.
Happy month of July! (Wait– did we just say July?!?)
We're kicking off the month with a bonafide, laugh out loud author and humorist from the South… yeah, we had to read more too!
Melinda Rainey Thompson is an award-winning, best-selling author and speaker living in the South. Her books include: Southern Women Aging Gracefully, The SWAG Life, I Love You–Now Hush (with co-author), and a brand new book, I've Had It Up To Here With Teenagers. Look for them in your favorite bookstore, online, or download on your electronic reader. She can be reached on her fan page at Facebook.com/MelindaRaineyThompson, on Twitter at @mrtswag, or through her blog, http://melindaraineythompson.wordpress.com.
Ready to read more? Don't miss these three amazing posts from her blog!
The accidental writer: For aspiring writers everywhere.
Shopping online for caskets: A little something funny for you!
Parenting teenagers, titling a book, and saving the world.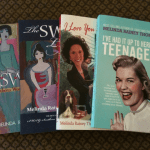 We told you Melinda was funny! After you leave a comment on this post, head on over to Melinda Rainey Thompson, check out her fantastic blog, and make a new friend.
Be sure to leave her some comment love too!