This post may contain affiliate links which may give us a commission at no additional cost to you. As an Amazon Associate we earn from qualifying purchases.
Janet is a blogger who has a passion for creativity and helps others use rubber stamps to create beautiful and memorable items on her blog Stamping At The White House. Get ready to learn a few things about how you can stamp it up!
Your blog is focused on your business and your passion for stamping, when did you discover you had a knack for this creative outlet?
Interestingly enough, I wasn't all that crafty as a child.  It wasn't until I owned my first home that I started exploring different hobbies. I loved doing and learning new things.  If there was a class offered, I signed up.  Decorating, Tole painting,  landscaping, calligraphy, cooking, scrapbooking, rubber stamping…basically all things related to creating what I call my "white picket fence " aspirations.  To me, the simple things are the best!  I started scrapbooking and rubber stamping after the birth of my first daughter over 20 years ago.   I thought of the obvious and looked to using rubber stamps  to eliminate the need for so many letter stickers on my pages, especially having the leftovers after using all e's s's, t's etc.  Next came Christmas Cards.  I have made my own cards for years.  That is actually how I was introduced to Stampin Up!  It became apparent that they had everything I needed and coordinated it to all work together.  I get multiple levels of satisfaction by being a Demonstrator such as, being a business women, being creative, meeting new people and having a hobby that is relaxing and keeps things in perspective.
I love that you share some of your current stamp sets for sale in your shop, do have a favorite you can share?
Stampin Up! has a team of artists who stay on top of the market trends,  offering new stamp sets and accessories annually in the Idea Book and Catalog.  Additionally, they publish mini catalogs every quarter with awesome seasonally relevant product.  I would have to say that my all-time favorite set is called "Lovely As A Tree".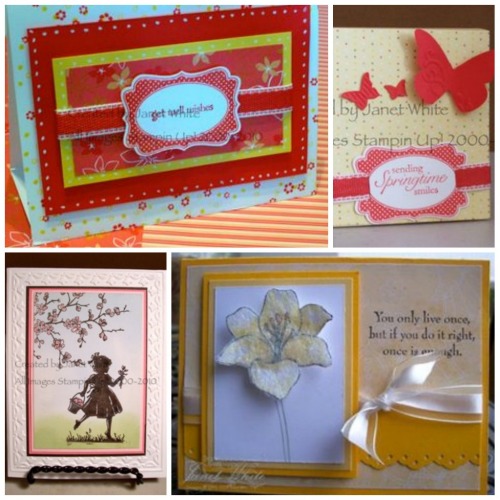 What can readers expect to find when visiting your blog for the first time?
Visitors to www.stampingatthewhitehouse.com will find a variety of information and inspiration to assist them with their Rubber Stamping or Scrapbooking hobby.  Some posts will have pictures of recent projects, others will include a step-by-step tutorial.  I try to post every 3 or 4 days so as not to flood your in-box.  I offer both local classes and  kits so even a long distance customer can join in.  Stampin Up! will frequently offer product specials so sometimes my customers just enjoy hearing about whats new and what is on sale!
What advice can you give to someone who has never tried stamping before? Where would we start?
One of the things that I love about Rubber Stamping is how easy it is to do.  You don't need to be an artist because the image is drawn for you.  Even if you make a mistake, many times you can turn the paper over and try again.  I say, if that doesn't work, "It's just a piece of paper".  To get started, I recommend that you have a project in mind, like a Birthday card, so that you actually complete something.  Stampin Up! offers sets so that  the stamps coordinate.  All card stock, ribbons, markers and ink are offered in color families and match perfectly which helps tremendously when trying to pull it all together.  Most important to me is that my customers enjoy what they are doing.  Don't stress about making something that is not perfect.  Amazingly, the coolest ideas come from someones mistake.
Other popular posts from Stamping At The White House:
Stamping Up Wedding Invitation
Stamping On Candles
Dryer Sheet Tutorial For Bells And Boughs Card