This post may contain affiliate links which may give us a commission at no additional cost to you. As an Amazon Associate we earn from qualifying purchases.
Our SITS Girl in the Spotlight this weekend melted my heart with the photo she submitted of her son, Jude, playing with Victoria, a family friend's baby.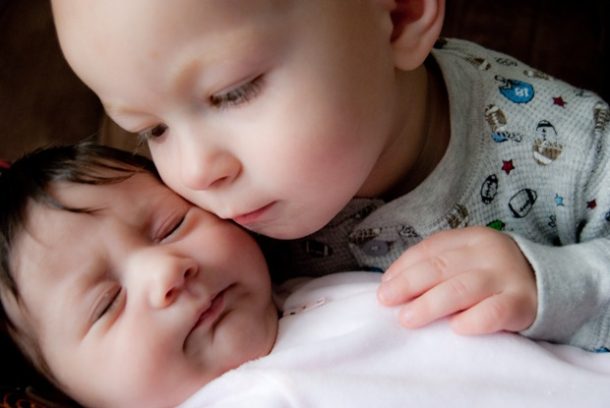 Please join us in welcoming Ashlee from Mommy, Unscripted to the spotlight.  She is 24 years old, a stay at home mom, a maid, a chef, a nanny and often a tissue.
Here is what she had to say about a special afternoon spent watching these two little ones together…
I asked Jude if he wanted to hold Victoria. "Yes" he said with a wide grin.  I gently placed Victoria in Jude's arms. Tears filled my eyes as I watched him hold her. He was so gentle. He didn't try to poke her eyes out, or shove his finger in her mouth. He just sat there, stroking her hair or patting her tummy gently with his chubby hands. He would put his cheek on hers, or kiss her tiny nose.
Sigh.  It is moments like these that make you appreciate how wonderful motherhood can be.
Go say hello to Ashlee on her blog this weekend.  She's entertaining, articulate, and has amazing photos on her blog to boot!
* * * * * * * * * * * * * * * * * * * * * * * * *
If you'd like to become a SITS Girl in the Spotlight, simply submit a favorite vlog or photo to us at SITSgirlinthespotlight@gmail.com. We'll take care of the rest. To learn more, check out Kat's vlog here.
And since it's Saturday, let's get our Weekend Sharefest started.  To participate, leave a comment linking to your favorite post from this past week.  Once done, comment on the TWO blogs ahead of you in roll call.
Commenting is a great way to get your link out there in Internet land and meet new friends!