This post may contain affiliate links which may give us a commission at no additional cost to you. As an Amazon Associate we earn from qualifying purchases.
2 Mom Friends(Jamie and Lindsi) + 6 kids = Toys in the Dryer! Today's featured blog will inspire you to find new ways to live in the moment with your kids.

Toys In The Dryer combines the humorous side of being moms with our desire to provide fun, cheap, and creative outlets for our children. Activity and snack ideas, laughable posts, and expert advice blend the best parenting. We are hoping that Toys In The Dryer encourages us along with our readers to spend more quality time with our kids. Here's to hoping you don't find too many toys in your dryer!
Favorite Toys in the Dryer posts:
Homemade Fruit Leather: One of their favorite and most popular Tasty Treat posts. Bet you didn't know you could make fruit leather without a dehydrator!
Make Your Own Treasure Hunt: Super fun for your kids while keeping them active and busy for a while.
Paper Mache Maracas: A humorous post proving no mom is perfect. Even the best planned craft/blog post can turn out to be a complete disaster!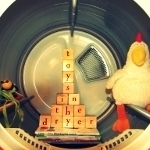 Be sure to roll call below and then go meet the girls of Toys in the Dryer!