This post may contain affiliate links which may give us a commission at no additional cost to you. As an Amazon Associate we earn from qualifying purchases.
Are you offering freelance writing services on your blog? With an active blog, you're also actively maintaining samples of your writing- why not offer a service that's already in your wheelhouse? If you're not already convinced read on because today's blogger has 10 great reasons for you to start offering your freelance services!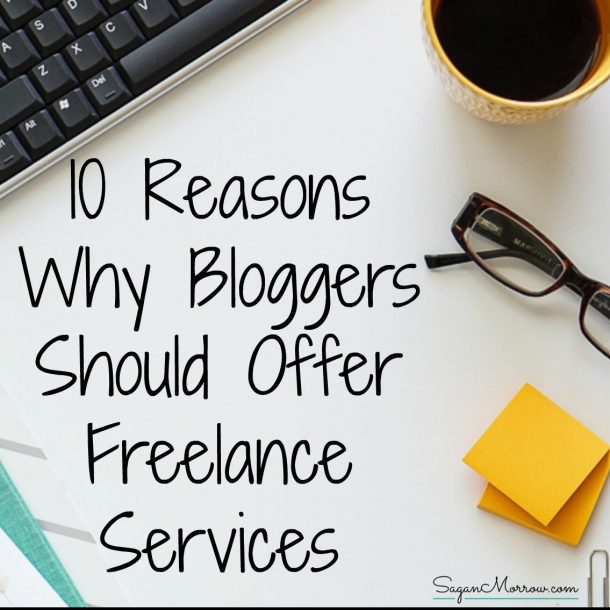 10 Reasons Why Bloggers Should Offer Freelance Writing Services
If you want to be a professional blogger and start monetizing your blog, offering freelancing services is a fantastic way to do it!
Here's why:
1) A freelance writing page is FAST to put together. Building relationships with potential sponsors and applying to ad networks can take a lot of time to do. On the other hand, letting people know that you offer freelance writing services can be as simple as a line in your social media bios and a brief page on your website outlining the types of services you offer, a few testimonials, your skills/experience, and how to contact you. You could theoretically put that together in 20 minutes or less!
2) Bloggers are already creatives. When we blog each week, we are constantly coming up with new ideas or interesting angles to talk about a subject we love. This creative skill will be immensely valuable when you're writing for other companies.
3) Your blog serves as your online writing portfolio. A potential client doesn't have to reach out to you and request samples of your work, because your work is available for anyone to see! Your blog is the perfect portfolio to showcase your skill and ability, and can greatly increase the chance that someone will hire you.
Read the rest of the article to get the next 7 tips, PLUS find out how you can set yourself up to be a successful freelancer.
Read the full post here: 10 Reasons Why Bloggers Should Offer Freelance Writing Services