This post may contain affiliate links which may give us a commission at no additional cost to you. As an Amazon Associate we earn from qualifying purchases.
Every blogger wants to blog consistently but it's even more important for bloggers who are using their blog to promote their business. Potential clients want to see fresh posts and recent updates, not outdated ideas about hot topics from a year ago! Whether you're an earning solopreneur or a blogger building up a readership, today's featured blogger has developed a great process (with a printable checklist!) for jump-starting your writing process.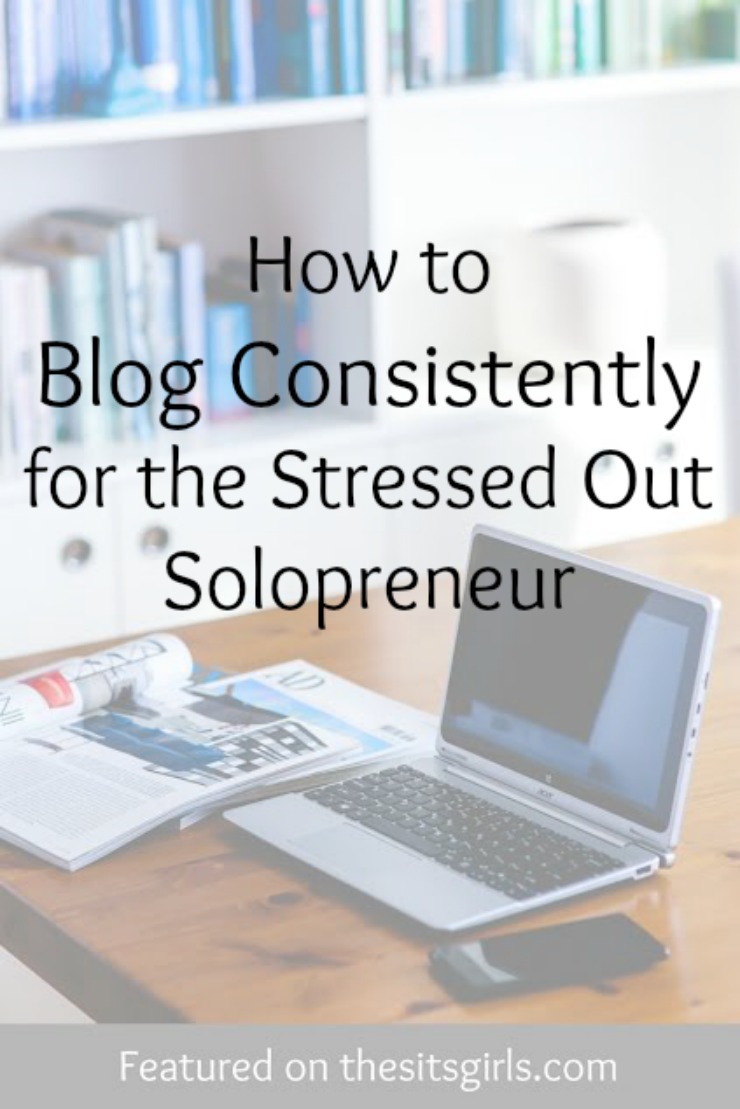 How to Blog Consistently for the Stressed Out Solopreneur
Writing a weekly blog post can be a taxing process. And if you're anything like I was, banging it out the day it's meant to be published just brings up all kinds of anxiety.
Telling my impatient fingertips to "shut up" so my disorganized brain could think, often left me questioning my sanity. But strangely, this is how I continued to work for the better part of 4 years! **facepalm**
In all seriousness though, blogging consistently has been one of the most challenging tasks for me – but I guess if it was easy, every man + his dog would be doing it right?!
So take heart friend, you're not the only one who doesn't find blogging much fun. The good news is, there are certainly things you can do to improve your relationship with blogging which is exactly what I'm sharing today.
Writing a weekly blog post is a necessary evil if you want to book clients and sell your stuff.
If you just sit in your tiny little corner of the internet saying nothing, people won't even know you exist let alone visit your website.
To book clients and sell your stuff, you've need eyeballs on your website and not just any eyeballs. You need the eyeballs of folks who need your service or product.
This means you need targeted traffic. And to get targeted traffic, you need to be writing targeted content that's relevant to your audience. And you need to be sharing it – A LOT – in multiple places online!
So, I was every blogger's nightmare – all kinds of disorganized AND inconsistent. That was until earlier this year, when I decided to streamline my processes.
Through doing that work, I've come up with a 14-step writing process that takes the stress out of writing my weekly blog post.
Read the full post here: How to Blog Consistently for the Stressed Out Solopreneur