This post may contain affiliate links which may give us a commission at no additional cost to you. As an Amazon Associate we earn from qualifying purchases.
What if I told you with a few, simple design tweaks you could be well on your way to a more professional, fancier-looking blog? Whether or not design is in your wheelhouse, you've got the skills to make a few improvements. Today's blogger (who also works as a web designer) has seen it all and has some great suggestions to save you from some of the most common mistakes.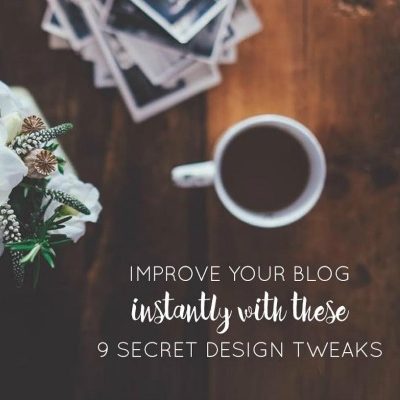 Improve Your Blog with These 9 Design Tweaks
You probably want your blog to look gorgeous. But you're not a designer, and you're not quite ready to hire one, either. You have an awesome idea in your head and you try to DIY things, but the end result always ends up looking… a bit off (or more than a bit).
As a web designer, I've work on a lot of websites that have been DIY-ed – and they don't look bad at all! But they're not QUITE there… they don't look all that professional. Something is missing, something is off, and the blogger just can't put their finger on it.
After designing and re-designing LOTS of blogs, I've taken note of the most common design mistakes – and they're actually pretty easy to fix! So today, I'm sharing with you 9 tricks that will instantly elevate the design of your blog – and no, you don't need any design or tech knowledge, or complex software!
Let's dive right in, shall we??
Read the full post here: Improve Your Blog with These 9 Design Tweaks