This post may contain affiliate links which may give us a commission at no additional cost to you. As an Amazon Associate we earn from qualifying purchases.
Did you know you can schedule social media posts across multiple platforms in just about an hour each week? It's true! With the help of some handy web-based tools you can be well on your way to experiencing the freedom of not being tethered to your computer and/or phone to stay on top of your social media accounts. Today's blogger has some helpful hints for staying on top of this blog chore.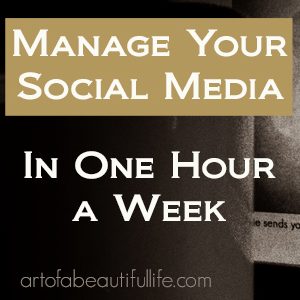 Schedule Social Media in Only an Hour a Week
Schedule your social media posts in only an hour a week…and without losing your mind. Have you ever felt like you are losing your sanity keeping up with everything? Or have you ever found yourself so busy that it felt impossible to keep up with posting on social media that week on top of everything else? This simple system frees up valuable time to connect with others and to write, while always maintaining your social presence. It's easier than you ever imagined.
Read the full post here:  Schedule Social Media in Only an Hour a Week