This post may contain affiliate links which may give us a commission at no additional cost to you. As an Amazon Associate we earn from qualifying purchases.
Apps are wonderful things! They allow us to work from anywhere at anytime. I love that they allow for some flexibility in our work routines and let us step away from our desks without compromising our productivity. I seriously don't know how I would get through my work days without my favorite apps. They allow me to get a lot of my work done in short bursts when I have a few minutes to spare, and help me stay on top of things when I'm away from home for extended periods of time. Below you'll find my top ten list of apps that I use to help make blogging easier.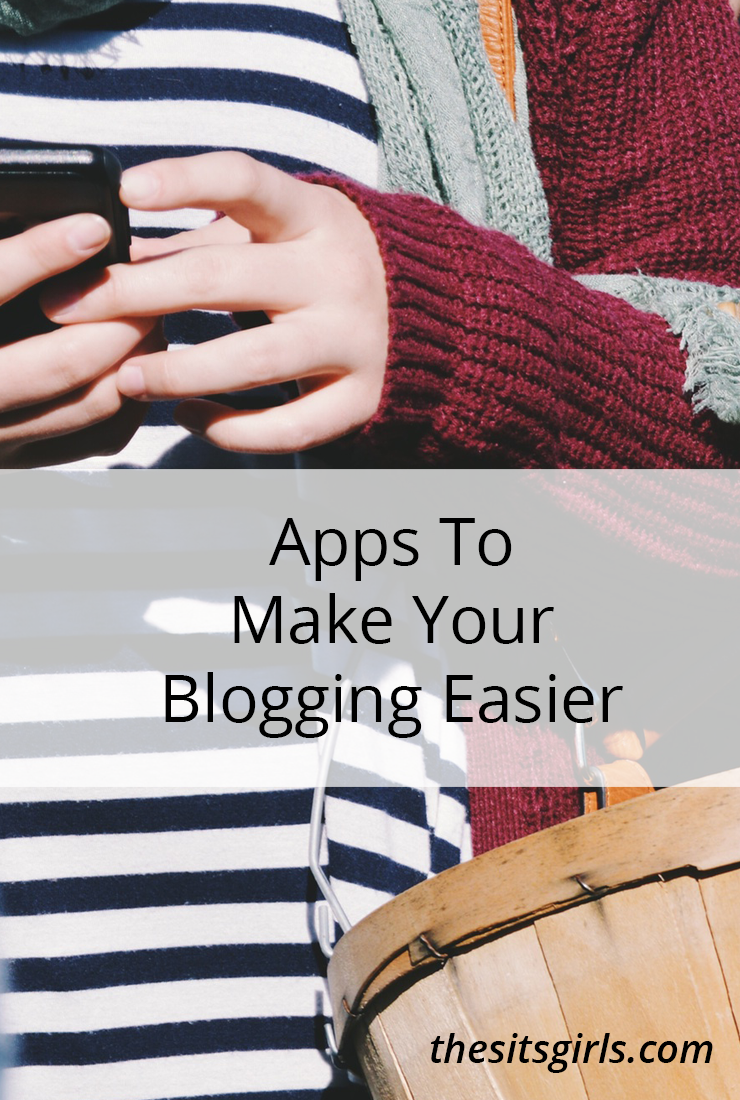 My 10 Favorite Apps That Make Blogging Easier
Cloud Services (iCloud, Google, DropBox, etc…)
I'm sure everyone uses a cloud service of some kind with their devices. I mainly use mine for photos. This way I can snap a picture on my phone and edit it on my computer with very little hassle. It's also nice to know that those photos are stored in more than one place. They're a great place to store back ups of your website, or any files that you don't want to lose.
What you use your cloud service for is up to you, but having one is definitely high up on my list of App musts!
Hootsuite (or other Social Media Scheduler)
Having the ability to schedule your social media on the go is amazing. I love that I can schedule things as I have time throughout the day without too much effort. My scheduler of choice is Hootsuite because they were the first to have a way to schedule Instagram, and I love that I can sit down and schedule a bunch of photos at one time. It makes sharing throughout the week so much easier. And it's so nice to be able to share things to Twitter and let the app worry about the best time to be tweeting.
Making use of a social media scheduler is a great way to save time and streamline your workload.
Google Sheets
I admit, I am a little addicted to spreadsheets. I like that I can create a spreadsheet for almost anything and tailor it to work with how I think. I have a variety of spreadsheets I use to keep track of things like:
what posts I'm pinning and when
my top posts each month
top referring websites/posts
my social media and pageviews number each month
my social media sharing schedule
Because I use spreadsheets for schedules, having access to them no matter where I am is awesome for helping me stay on track.
Trello
Trello is my go-to app for planning projects. I keep running to-do lists here with all the things I need or want to get done for my website – updates that need to be made, printables I want to make, and even plans for the future. I really like that I can color code the boards based on topic, add in checklists, and leave comments on the different cards. It's a great tool to help stay on track.
Trello also has the option to create boards for a group, so it's a great way to keep track of details for collaboration projects.
Feedly
Call me old school, but I still prefer following my favorite bloggers via RSS than any other way and Feedly has become my favorite app for that. I really like that you can create categories for the blogs you follow, which makes it so easy to find something to share on social media. I love that I can read them whenever I have a few moments and use the save for later feature for ones I want to share on social media, even if I do not have the time to do it right then and there.
Ryver or Slack
My tribe and I absolutely love that there are apps like Ryver and Slack out there. Both of these apps make it very easy to keep track of all the different topics you want to talk about or the different projects you are working on together. They work kind of like a forum, you can create channels by topic, search through past posts, share pictures and files, and generally keep all your tribe work nicely organized. We've found that they're a great way to share information back and forth in a much more organized way than in a Facebook group.
Instagram
I think Instagram is quickly becoming my favorite social media network. I love that I can hop on and quickly share a photo of what's going on that day, or a sneak peak of a work in progress. I'm also finding that it is fantastic for finding ideas for new posts and projects. There is so much creativity being shared on a daily basis that it makes it the perfect place to escape for a little bit. I've also found that some amazing conversations take place on Instagram. People tend to talk a little more and give you a little more insight into what they're looking for from you, which can be invaluable when it comes to creating content for your audience.
Pinterest
I love Instagram for the social aspect and I love Pinterest for how easy it is to use. I don't use a scheduler on Pinterest, so having the Pinterest app on my phone is a great way for me to make sure I'm pinning content throughout the day. It makes it super easy to just hop on and start pinning things from my smart feed. I also use Pinterest quite a bit for research for all areas of my life, not just blogging, so having it with me where ever I go is a life saver.
Facebook's Various Apps
I'm bundling all the Facebook apps into one here, because I use them all together. I like that the new Groups app allows me to keep up-to-date with what's going on in the groups I belong too, without being distracted by what's happening in my news feeds. It's made it very easy to really focus on using Facebook in different ways.
My favorite Facebook app though is the Page Manager app for Android. Having this app installed on my phone means that I can easily share a link right to my Facebook page from the web browser. It makes it so much quicker to share things because I don't even have to leave my browser. I was extremely disappointed when I learned that I didn't have that option on my iPad.
And lastly I use the regular Facebook app to scroll through my news feed when I have a chance and share posts and videos that I think my readers might want to see.
Periscope
So, Periscope doesn't exactly make blogging easier, but I love this app all the same. I follow a variety of people who are on Periscope sharing their knowledge of blogging, social media, entrepreneurship, and more, and it's nice to be able to follow live or put on a replay while I'm making dinner. It lets me stay up-to-date without taking up too much of my time, which I love.
Those are the apps I use on a daily basis. The core apps that helps me keep my blog running even when I can't be at the computer. I actually find that I'm able to get more done through the apps, than if I sit at my computer. Perhaps it's because I can squeeze in some pinning or commenting whenever I have a moment? I don't know, but I do know that blogging would be a lot harder without these apps.
I'd love to hear what apps you use to make blogging easier for you.
Drop us a line in the comments below and share what you like best about your favorite apps.