This post may contain affiliate links which may give us a commission at no additional cost to you. As an Amazon Associate we earn from qualifying purchases.
When it comes to blog myths, are there certain beliefs that you have, but you're not quite sure why?
Today, we're debunking the top 10 blog myths. It's time to put a stop to those crazy notions that just aren't quite right.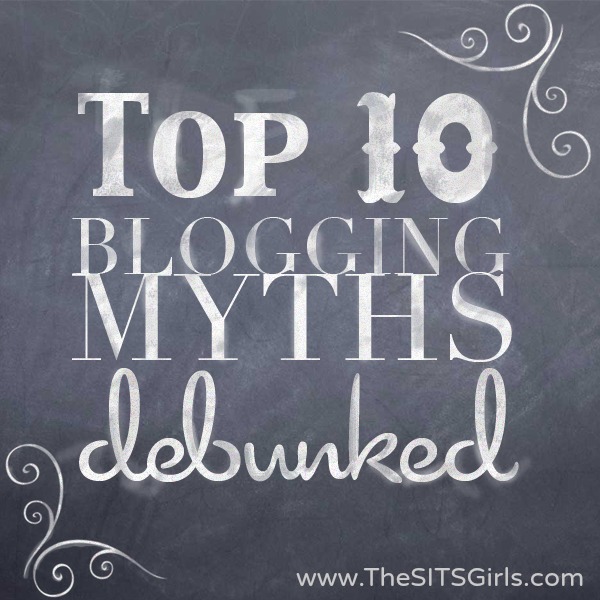 Blog Myth #1: More Traffic = More Money
This is probably the greatest myth of all. Lots of pageviews does not always mean lots of cash in your pocket. Quite the opposite, in fact. What matters most is not the sheer number of visitors to your blog, but your relationship with your readers and your ability to get people to follow your call to action, e.g., buy your eBook, product, service, etc.
Blog Myth #2: You Should Blog Everyday
For every successful blog that publishes every day (or even more than once per day), there is a successful blog that does not. Give the content that you spend hours creating a chance to breathe. Promote it over the course of several days, across a number of different platforms. You'll be surprised at how far you might be able to extend your reach.
Blog Myth #3: All of Your Posts Should Be Optimized for SEO
Not everything you write is going to be an SEO wonder. Nor should it be. When you want to rank for a keyword, it's very satisfying to focus and accomplish just that.
However, sometimes maybe you just want to have a heart-to-heart talk with your readers, announce a giveaway winner, or just talk about your day.
There is not a keyword for that.
Blog Myth #4: If You Build It, They Will Come
Even if you are an amazing writer and create amazing content, those blog posts still have to be found. Now the 'Content is King' supporters will argue that great content always gets found. And it usually does, what they won't tell you is that it might take weeks, months or even years for this to happen.
The bottom line is that you get out of blogging what you put into it. If you want your content to be found, then you need to get off your blog and interact with people on various social media platforms. Consider leaving comments on similar blogs and participating in Twitter chats about the same topics that your blog covers.
Blog Myth #5: Blogging Is Easy
Even though it has never been easier to set-up a blog and start writing, the process of blogging is not at all easy. If you are truly serious about running your own blog, it takes a lot of hard work, tons of dedication, passion for the subject you blog about and most importantly, patience.
You need to spend time producing quality content on a consistent basis, work at driving traffic to your site, and continually learn about the space.
There are a loads of benefits to blogging, but like most good things in life, you need to work for it!
Blog Myth #6: You Should Have A Presence Everywhere
Lots of social networking sites are out there, and obviously managing a ton of profiles isn't easy. Concentrate on building loyal followings on a few targeted platforms that make sense with your blog. Is your content mostly shared on Facebook? Or maybe you are focused on creating pinnable images for Pinterest. Whatever the case may be, choose a handful of social media accounts and focus your efforts there.
Blog Myth #7: You Must Be a Great Writer
No, you most certainly don't. As long as you are able to express your thoughts in words you will be in a pretty good shape. You don't have to be a brilliant writer to start a blog. All you need is a strong will and ability to identify topics that you can create compelling content around.
Blog Myth #8: You Need Tons of Traffic to Be Successful
For me personally, this has been the hardest myth for me to overcome. I've long believed that the heavens will open and blogging becomes easier once you pass the 1 MM mark.
Nope.
If you are not getting huge amounts of traffic, don't stress.
What you actually want is traffic that stays. That won't bounce off.
Work to get traffic from blogs that you regularly go to, blogs in your niche, not matter how small. Because this is high quality traffic, interested in the same things as you are.
A few hundred engaged readers are way better than thousands and thousands of visitors to your site. These are the ones who are genuinely interested in you, your content and go on to develop a sense of connection with you.
Blog Myth #9: Blogging As A Stay At Home Mom Doesn't Make Money
That's just pure fiction. Monetizing your blog has been transformed in recent years. There are plenty of networks now, including ours, that have tons of opportunities for bloggers.
And we're handing it over on a silver platter.
All you have to do is consistently put your name out there.
Blog Myth #10: There Are Already Too Many Blogs Out There
Are there a lot of blogs? Sure. Is the space somewhat crowded? You could make that argument.
BUT, there is only one YOU. With your unique voice and story to tell. No matter how many blogs come and go, always remember that you've got something special to share with your readers.
More Posts Similar to This on Blog Myths
If you liked this post on blog myths, then be sure you keep reading for more great content!
How about you? Got any blog myths you'd like to share? Leave your feedback in the comments below or let's continue the discussion over on our Facebook fanpage!