This post may contain affiliate links which may give us a commission at no additional cost to you. As an Amazon Associate we earn from qualifying purchases.
Are you looking at your web design day after day wondering how to improve it?
Or maybe you are just starting out and overwhelmed by the number of choices you have to make when creating the best blog design possible.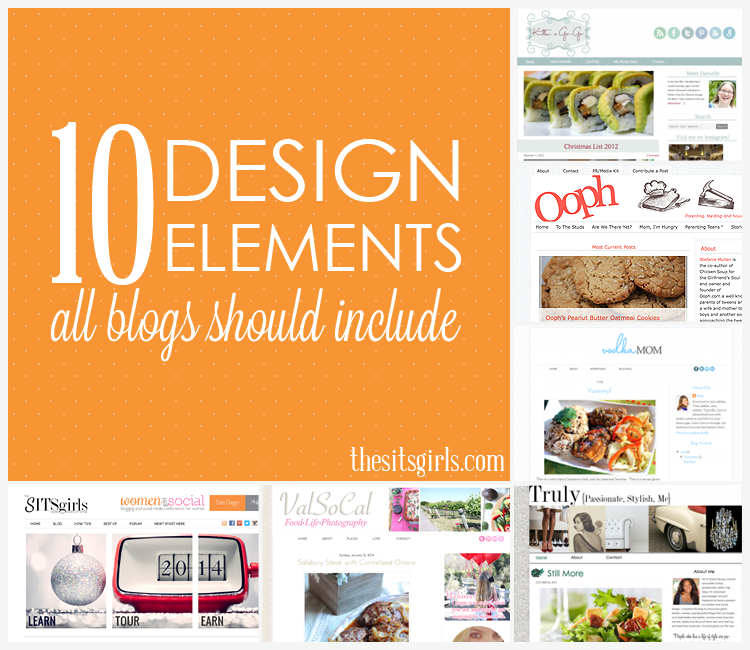 Web Design Tips All Bloggers Need To Know
Read on to discover 10 web design elements all blogs should include!
1. Attention Grabbing Header
If you could only invest in one web design element for your blog, I'd tell you to make it the header. Your header is your first impression. Make it count! Your header sets the tone for your blog and lets readers know what to expect from your site.
2. Complimentary Color Scheme
Color can make or break your blog design. You want to pick colors that represent your style, your life, and your niche, but be sure the colors compliment one another and invite readers to stay. Study up on what your color choices say about you and your blog and pick a palette that works!
Did you know that…
Pink signifies romance, love, and friendship. It denotes feminine qualities and passiveness.
Brown suggests stability and denotes masculine qualities.
Reddish-brown is associated with harvest and fall.
Light yellow is associated with intellect, freshness, and joy.
Aqua is associated with emotional healing and protection.
The list goes on and on!
Read more about color meaning and learn about what message your site could be sending.
3. Reader Friendly Font
There are a few deal breakers for me as a blog reader, and bad font is one of them! If it's not easy on the eyes, I won't come back. Choose a font that you would want to read.
What are my font deal breakers?
light fonts on dark background
overly fancy or swirly-twirly fonts
font that's too big/small
4. Easy Navigation
Don't make your readers work to find your fabulous content. Place a navigation bar with clear categories and pages somewhere at the top of your site. Make it easy for readers to move from one post to another with a next page plug in. Visitors are more likely to stay if they're comfortable!
5. Mobile Friendly Web Design
Let's face it. If your readers can't read you mobile, you're missing out on a ton of traffic! Talk to your designer about a mobile friendly web design or install a plug-in that easily converts your site when a mobile device is detected.
6. Unique Author Profile
Who are you? What makes you unique? Why would a new visitor want to read your blog? Let your personality shine through in just a few lines. Include a picture, so readers can remember your beautiful face.
7. Subscription Options
Turn first time visitors into returning readers! Make sure you have subscription options available so new visitors can easily subscribe to your blog posts.
8. Search Bar
A simple search bar is like an open front door. It allows readers to look for the content they're interested in and invites them to look around. It's a simple must-have!
9. Popular Posts
Spotlight your best work with a link to popular posts or create a landing page in your navigation bar with a "best of" list that includes the links to the posts that mean the most to you.
10. Smart Feet!
Ya know that area all the way at the bottom of your blog? Use it! Your footers are a great place to put buttons and badges, Instagram feeds, or links to other posts. This is a place where you can say one more thing. What do you want readers to know? It's also the perfect place for a final call-to-action. What will you ask for?
KEEP READING!
Looking for posts similar to this one on the top web design elements? Then be sure to click through the below links or head over to our Facebook fan page to continue the discussion!