This post may contain affiliate links which may give us a commission at no additional cost to you. As an Amazon Associate we earn from qualifying purchases.
Let's face it – there are some days you need to pump out a blog post, but you just don't feel like writing.
It happens.
In those cases, there are still ways you can create valuable content to share with your followers without having to write. Use these blog content ideas on those days.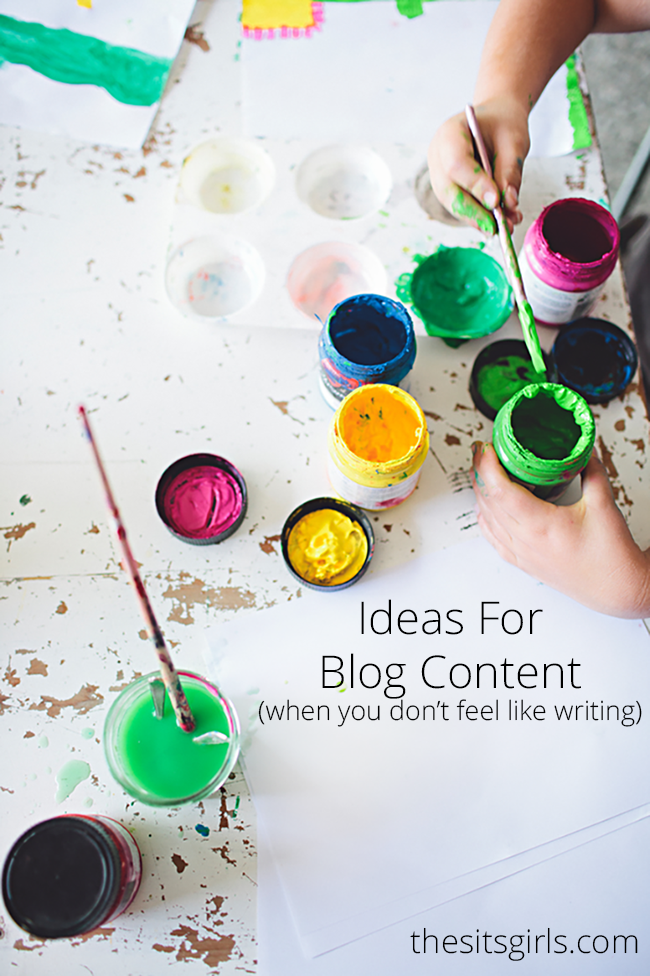 Ideas for Blog Content (When You Don't Feel Like Writing)
VIDEO
The days of needing a fancy camera to make video content are over. Chances are, the camera on your phone will suffice for casual videos and live broadcasting.
1 |  YOUTUBE VIDEOS
Take a few minutes to record a tutorial, how to, or other useful information to share with your audience. Upload your video to your YouTube channel and then embed your video clip within a blog post on your website.
You get the added benefit of creating content for multiple places in one shot.
2 | PERISCOPE VIDEOS
Why not host a live Question and Answer session on Periscope? An "ask me anything" broadcast is a great way to engage with your audience as well as creating valuable content.
Like with YouTube, you'll have the added benefit of using this content in two places – while you are live on Periscope, and again when you post the video to your blog. Just be sure you have your Periscope broadcast set to save to your phone first; your broadcasts only remain on Periscope for 24 hours. (Here's how to be sure your Periscope streams are being saved.)
GRAPHICS
3 | PRINTABLE INSPIRATIONAL QUOTE
Everyone loves a good inspirational quote. Find one of your favorites and put it on a lovely image – viola! You can find beautiful (free!) images at pexels.com and templates on Canva.
And don't forget to take advantage of the love for quotes on Pinterest; be sure to share it there.
4 | BACKGROUND IMAGE
If you have your own photos, illustrations or graphic to share, size it for a laptop or phone background and offer it as a download. People love free stuff.
5 | PRINTABLE CALENDAR OR ORGANIZER
After people get inspired through your quotes, what do they want to do next? Get organized. Create a printable calendar or organizer for your readers to download.
PHOTOS
6 | INSTAGRAM POSTS
Show your blog readers all the fun you are having over on Instagram. Instead of just re-posting the images, however, try to create an interesting collection. For example, if you do outfit of week posts every Friday, show your 10 most liked ensembles.
Bonus: you may get more Instagram followers as a result.
7 | BEHIND THE SCENES
Whether it is a photo of your work space or an entire "day in the life" expose, readers love to know what goes on behind the scenes. It helps create a connection with your audience as well.
LISTS
8 | ROUND UPS
Share some of the best blog posts you've read this week, a gift guide, or a list of blogs you read every day. People love to learn about new resources.
Lists work best if they are centered around a theme or topic, rather than unrelated items.
9 | PLAYLIST
Making playlists can be fun. Like round ups, they work best if you can tie them into your blog topic — such as 10 songs to motivate you while you clean, or 7 songs for studying.
Don't let your lack of writing motivation keep you from posting on your blog. Try one of these forms of content to share with your readers.
What is your favorite type of content to read and create? 
Author Bio: Megan
Megan wants to live in a world where rainy days are for naps, wheat beer is not just for summer, and her dog always wants to snuggle. When she's not snapping iphone photos, you can find her creating beautiful websites for entrepreneurs and small business owners. Her latest project — Prepare Your Square — is currently booking clients to have their Squarespace websites created in one day. Learn how you can have a website designed for you without having to take out a loan or feeling like you want to throw your laptop.