This post may contain affiliate links which may give us a commission at no additional cost to you. As an Amazon Associate we earn from qualifying purchases.
Sometimes when I write a post, I want to tell a story. I write out my paragraphs with a beginning, a middle, and an end. Other times I might be writing directions for a craft project or a recipe, and I'll note the ingredients or materials necessary, and then the steps to complete the project. Often there are times when I just want to make a list. Some lists are quick and easy, other lists require research and analysis. Either way, lists are a great way to get your point across and share your information with others, and list posts are great for bloggers.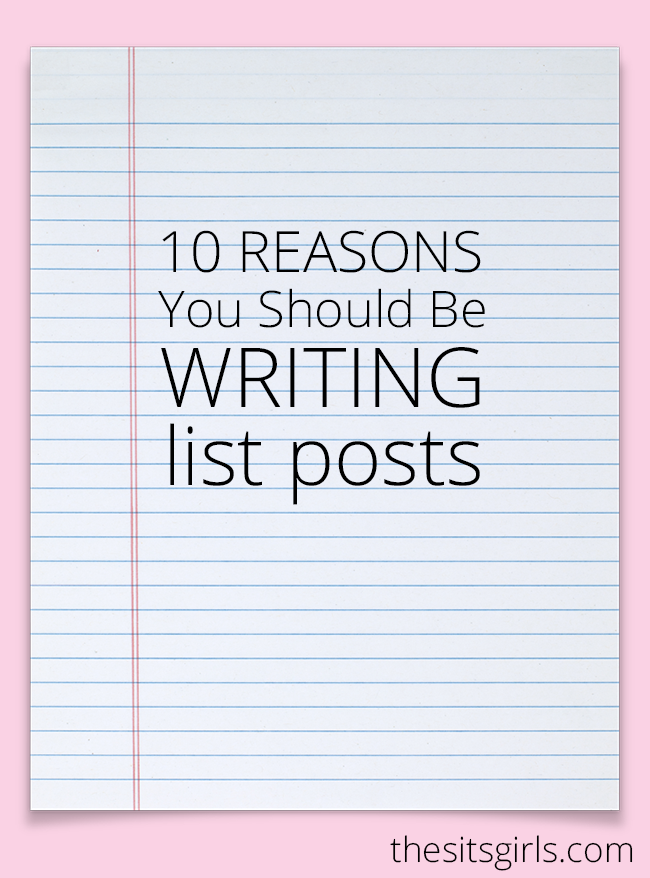 10 Reasons You Should be Writing List Posts
1.Organization: Lists help you organize your thoughts. Just like those outlines your high school English teacher made you write, a list can help you, as the writer, get your point across effectively. You don't have to go back and tell her she knew what she was talking about, but it might be nice.
2. Expectations: People like to know what they are getting into. Your readers won't have to wonder if they have time to read your post. They can tell from the number cited in the list how long it will be.
3. Expertise: You'll sound like an expert when you write a list. There's something about numbers and bulleted points that make your writing look more believable. Plus, the more points in your list the bigger the expert you appear to be!
4. Self-Promotion: Lists are great for linking to other articles you've written. If you are a food blogger, you probably have lots of tips for how to prepare a certain type of food. Make a list of those points and link back to each of your recipes. Mom bloggers can write a list of parenting hacks and link back to stories they've told in the past.
5. Shareability: Numbers make your points very shareable. Have you ever seen someone promote a post and say something like, "#7 is totally me!!" Doesn't that make you want to go read the post and see what #7 is?
6. Skimmable: In a perfect world we'd all have dedicated readers who read every word we write and reflect on each masterpiece we publish, but that's just not the way things work. Often people skim to see if something is worth coming back to later. And lists are great for skimming.
7. Memorable: A well organize list will also be memorable. Perhaps you could use a key word for each point in your list. See how I've done it here? I've already summarized each point with one word that makes it easy for you to remember what each point is about.
8. SEO: There are a number of things on this list already that touch on SEO, but Google agrees that lists are good for page rank. Along with that, properly formatted html tags (H1, H2, etc) in an organized list (see point 1) and internal links (point 4) can help your post rank higher in search engines.
9. Challenging: If you claim to have "X number of ways to do Y" you are going to make people think. Are those the only ways? Did you leave something out? This is a great way to stir up some conversation in your comment section or on social media.
10. Fun: There are lots of serious, educational topics that lend themselves well to a list format, but there are also lots of fun or silly topics that work here too: bucket lists for seasons or school years; favorite movies, songs, or books; holiday traditions; etc. Lists are just fun!
Do you write lists? What's on them?
Want more tips for writing great list posts? Check out Why Top Ten Lists Work For Bloggers!