This post may contain affiliate links which may give us a commission at no additional cost to you. As an Amazon Associate we earn from qualifying purchases.
There are so many things that successful bloggers do to grow their following. Believe me when I say that bloggers do a lot more than write quality, engaging content. Some of the things they do are done without even realizing it's something that helps them grow their following. Here are 20 things successful bloggers do to grow their following.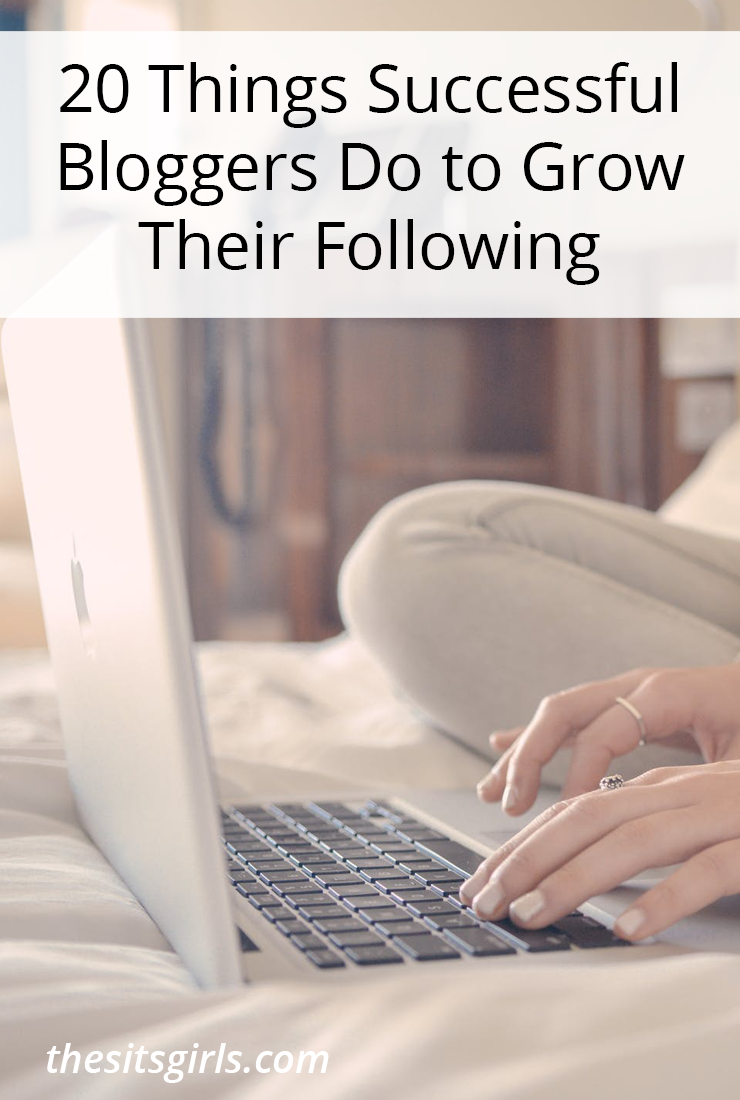 Note: this post contains affiliate links which may give us a commission at no additional cost to you.
20 Things Successful Bloggers Do to Grow Their Following
Know Who Their Readers Are
The very first lesson that Elite Blog Academy teaches bloggers, is how to determine who they want to write to. As the adage goes, you can't please everyone, but you can make a positive difference in at least one person's life. A successful blogger has a particular person they are writing to in every post they make across all of their channels.
Guide Their Readers
They guide their readers to join their newsletters. They make it EASY to share their posts across other networks. And, they make bold requests of their readers like they would a friend.
Create a Subscription Fan Base
One of the first things successful bloggers do is to create a subscription fan base through newsletter subscriptions. They do this by usually offering their reader some type of free gift(s.) Through the years I've tried many different newsletter software programs. Out of all of them, Mailerlite has become my favorite because it's user-friendly and easy to implement on my website and across my social media channels.
Then they make sure to actively write quality newsletters to their fans on a consistent schedule. Some people do it monthly, while others do it weekly. The key is to be consistent!
Go Where Their Fans Are
They find out where their reader spends most of their time online. They pick ONE social media channel to learn completely. And, they conquer it until they become a "virtual star" on that network so that their reader can't help but see them there. They engage completely with their ideal reader as much as they can.
Answer Questions/ Solve Problems
And they become their readers' go-to source for answers. When they are on social media, they look for their readers and see what questions or problems they can answer for them. They give short answers on social media and long answers on their blog posts and in their newsletters. If they can, they make FREEBIES for their readers.
Offer up Different Points of View
Successful bloggers don't write the same thing others write. They offer up something different. Usually, they go against the average grain in some form!
Leave Readers Feeling Better Than They Were When They Showed Up
When I owned my first blog, I once had a reader tell me that she found my blog to be quite inspirational. She always left my blog feeling inspired to conquer her problems. She gained an added bit of courage from reading my blog posts. She'll never know how much that touched me. That was what I wanted from my readers of that blog.
Deliver What They Promise
It's vital that as bloggers, we give our readers what we promised them. For example, IF you state you're going to do a series, make sure you finish writing it and sharing it in the time-frame you stated you would. Send out newsletters at the same time. Publish blog posts close to the same time each time you do it.
Spend More Time Giving
Give more than you receive! It's far better to give your readers FREEBIES versus asking them to buy something all the time. You'll see a greater return on sales if you invest in them. Give them content that will improve their lives in some form.
Networking with Other Bloggers
Networking with other bloggers will help a blogger grow tremendously! Successful bloggers do this to grow their following. When bloggers work together they increase their reach!
Maintain Patience
Creating a profitable blog doesn't happen overnight! In most cases, it doesn't even happen in a year. Most of the successful bloggers you see online have been doing it for well over two years. Don't give up before you finish your race!
Possess an Entrepreneur's Heart
A successful blogger knows that you have to be willing to hustle for the opportunities you're given. There is a LONG list of blogging networks that will help you gain sponsored opportunities. Yet, some of the best long-term partnerships I've gained with companies have been a result of me pitching to them directly.
Plus, as a blogger, we have many other doors opening up for us. We can make an income from having a blog, but yet it not be directly related to the blog itself.
Have an Open Mind
You have to see things beyond what it is in front of you. The best way to create evergreen content is to see blog posts form in your head as you're living your life. The best way to be your most authentic self is to write about what you KNOW well.
Ensure They Have Support
While networking with other bloggers is definitely vital and imperative to being more successful, an online entrepreneur knows that they need support on the home front too. Without having a team-like atmosphere at home, it's hard to juggle everything that a successful blogger needs to do.
They Keep Their Determination
They need to know what goals they are hoping to achieve. So they keep their determination until they reach their goals.
They Invest in the Right Training
And they invest in keeping up with the latest blogging courses. Then they actually implement what they have learned in those courses.
They Insure They Use Time Wisely
They don't waste their time doing things that don't give them a great return on their time spent. So they track their time that they spend on each task. They focus on what is important first!
They Invest in the Right Tools
And they make sure that they have all of the blogging tools that they need to be successful online. They find programs and software that makes their lives easier. Some examples include using Hootsuite and Tailwind.
They Create a Brand
When you think of Pioneer Woman, you automatically think of the woman with good ole' southern food, right? A superb blogger makes sure they are known for what they are passionate about. They are known as the go-to source for those things! You have a certain kind of personality, color scheme, and you stand for only a certain number of things.
They LOVE Blogging
If a blogger doesn't love blogging to begin with, then they will most likely never make it in the blogging world. Blogging for a profession is an all-consuming project. It's very rare that you don't see a professional blogger doing something related to their craft at every turn in their lives in some form.
There are many other things a successful blogger does to grow their following. These are the top things that come to my mind.
So, what are some of the things you've done that you feel have helped you to successfully grow your following?
To read more about growing your following, here are more tips: The Best Blogging Tools To Help You Grow Your Blog