This post may contain affiliate links which may give us a commission at no additional cost to you. As an Amazon Associate we earn from qualifying purchases.
There are a few universal, common excuses everyone is prone to using at least once in a while. This blogger shares 5 of the most common excuses, but she also shares ways to overcome these self-imposed road blocks. Stop letting silly excuses stand between you and success!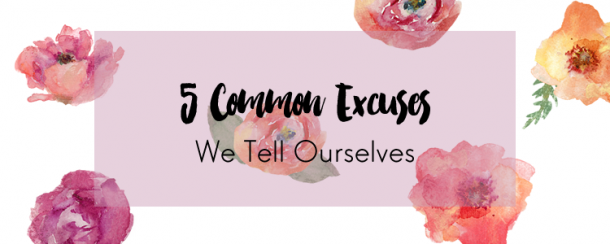 5 Common Excuses We Tell Ourselves That Keep Us From Succeeding
Each one of us has a go-to excuse or two when it comes to thinking of reasons why today isn't the day we start to pursue our biggest, hardest-to-achieve goals. I'm guilty of it; we all are. I know that everything (well, not everything, I'm probably not going to be an astronaut) is achievable with hard work and dedication, but ugh. So much hard work. Sometimes I'd rather just sit on the couch and watch Bravo reruns while my daughter naps. There are days when I'm just too tired/too overwhelmed/too unsure… insert your own "too ____" statement. Even now, before I launch a new product, I give myself a lot of reasons why I shouldn't. If you've ever considered doing something hard, but stop short of starting, here are 5 of the reasons for that.
Read the full post here: 5 Common Excuses We Tell Ourselves That Keep Us From Succeeding