This post may contain affiliate links which may give us a commission at no additional cost to you. As an Amazon Associate we earn from qualifying purchases.
Getting a custom blog design and working with a blog designer is a great way to take your blog to the next level. A custom design can help you create a  brand and reflect that brand through font, layout, and colors. Through design, you set a tone for your unique space on the Internet. And it also makes you more attractive to brands and readers!
If you are ready to take that next step and invest in a custom design, then you will need to find a fabulous blog designer. Find someone that is not only talented, but also a good match for you and your project.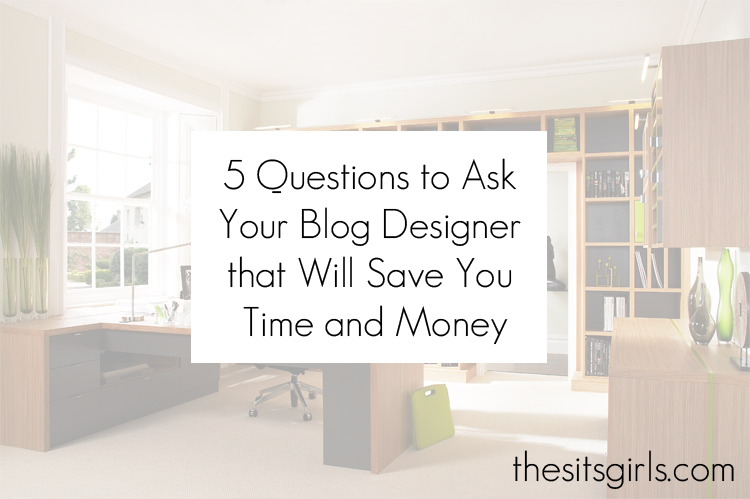 Five Questions to Ask Your Blog Designer
Before you decide to start working with a blog designer, there are a few questions you'll want to ask.
1.) May I see examples of other blogs, websites, and logos you have worked on?
Most reputable designers will have a portfolio on their website, but don't be shy about asking to see examples of work.  This is the best way to get a feel for the designer's style.  Pay attention to the headers on the blogs they have worked on.  The header is the first thing new visitors will see and will leave a lasting impression.  Has this designer created headers that are text focused?  Graphic focused?  Does their past work line up with your vision for your blog?  Make sure the design style is a good fit before moving forward.
2.) What is included in your package price?
Designers often offer tiered packages for design.  Consider which components are important to you.  Decide what is a must have, and what is a nice to have.
Packages may or may not include:
Custom header and logo
Custom social media icons
Custom favicon (the small icon that shows upon your browser)
Custom background
Installation of fonts
Set up of widgets
Custom banners and images for Facebook/Twitter/Google+
Business cards
If your budget is tight, don't be afraid to ask for a customized package.  You may be able to negotiate a lesser price by cutting out some of the items you don't feel are mission critical .
3.) Can you outline your design process for me?
In order to eliminate headaches and miscommunications, find out what you can expect from your designer and how they approach a new project.  Again, this a great question to ask when you are trying to determine if the personality of your designer is a match for you as the client.  Be sure to ask what their process is for getting to know you and your unique style.  Do they use a questionnaire?  Do they ask for a Pinterest board or a sample of images that inspire you?  Make sure they are focused on bringing your vision to life.
Keep your own working style in mind when selecting a designer.  Are you a structured person who needs detail?  Or are you more of a go-with-the-flow kind of gal?   Make sure you understand the timeline and steps in the design process in order to avoid frustration later on.
4.) What is your preferred method of communication and what is your turnaround time for response to questions?
This may seem like an obvious question, but it's often overlooked.  Find out if they prefer phone, email, or text.  Outline your communication expectations of each other from the start.  If your designer prefers email, make sure you as a client stay on top of your emails and provide feedback in a timely manner.  Having this conversation up front will help your design project to go more smoothly and quickly.
5.) What support do you offer post roll out?  Do you have an hourly fee?
When considering your budget, also consider extra costs that may come up post roll out.  If in the future you add a new social media platform, will your designer charge an hourly fee to create a new button?  Some designers may include basic support post roll out in their package, and charge an hourly rate for more in depth work.  Some may offer support for a set period of time.  Factor additional support time into your budget or ask if your designer will train you to do some basic edits yourself.
Have you worked with a blog designer?  Share your experience!  What advice do you have for those looking to get a custom design?
KEEP READING
Looking for more info? Here are a few posts related to starting a blog and hiring a blog designer that you'll find helpful: