This post may contain affiliate links which may give us a commission at no additional cost to you. As an Amazon Associate we earn from qualifying purchases.
There are close to 250 million blogs out there, so it's easy to feel like a tiny drop in the ocean in the blogosphere, especially if you're new to the game.
How do you stand out as a blogger? What do you do to make YOUR blog stand out?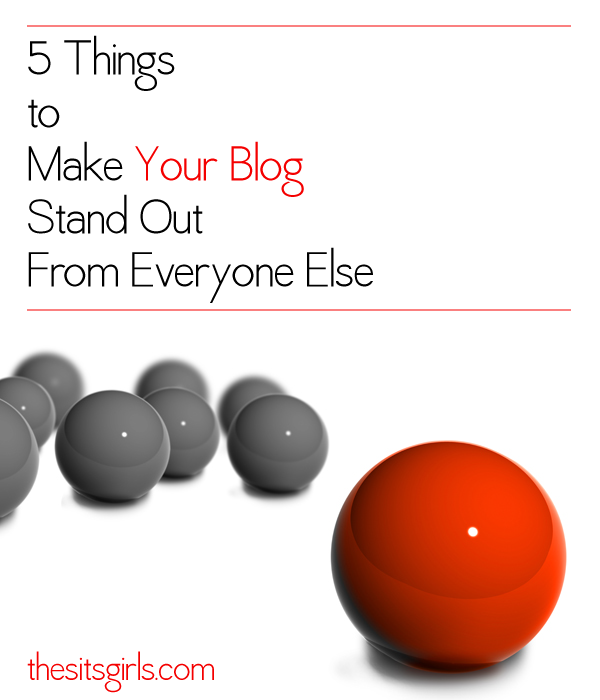 5 Ways to Make Your Blog Stand Out From the Rest
I talked to several seasoned bloggers about this, and time and time again, we came back to these 5 things that make a blog stand out.
1. Design
First impressions count 
A blog's header is the first thing readers see. Think about the impression and the message you want to give. What kind of blog is it? Food? Family? DIY? Craft? Your blog header design should reflect that. Think about the color scheme. What message do you want to impart? Do you want to blog to come off as fun/ serious/ eco-friendly? Is it unique? Your blog header should be reflective of your 'brand', and easy on the eyes. On the technical side of things, make sure that it is not too large, and that it sits above the fold – readers should not have to scroll down to see your content.
The sidebar matters 
Blog sidebars are prime spaces for all the things that matter for bloggers – it's an opportunity to provide your readers with a quick snapshot of who you are, and what your blog is about. The important thing is, keep it as clutter-free as possible. Do not overwhelm your design (and readers) with buttons, ads and widgets. You can download our free sidebar checklist printable here.
2. Content
Write your truth 
No matter your niche, always write your truth. Write what you know, and what you love. Write about what matters to you, and write from your heart.
Be reader-friendly 
Centralized text, tiny/ light-colored font, a dark background, long paragraphs with no space breaks – these are the things that turn readers off, simply because it makes your post hard to read. Our eyes naturally go from left to right, so if you centralize text, it makes our eyes work just that little bit harder. The same goes for very light font on dark backgrounds and a wall of text. It's just too much work. Breaking your paragraphs up also make for better storytelling, as spaces in between, create pauses.
3. Photographs
Visuals make a difference 
Adding photographs to your blog posts do two things. One, it helps to illustrate your post in a simple, graphic manner. Two, it breaks up the post into easy, digestible parts. Remember, make your blog reader-friendly.
Quality matters 
If photographs are an essential part of your blog (e.g. you write a food/ craft/ DIY blog), ensure that they are quality pictures. You can use your own, or stock photos, but make sure they are good. Poor quality pictures work against you in many ways, and one of them is post shareability, especially on Pinterest. People are less likely to Pin a recipe, if the picture does not reflect how delicious the recipe is. These days, you do not necessarily need a DSLR camera to take beautiful photographs. There are many apps and lens extensions for smart phones that help enhance your pictures. Invest some time in learning how to take decent pictures.
4. Niche
Be an 'expert' 
Whether you write about parenting, or blogging, make your blog the place to go when someone needs an answer to something. If you feel that you are nicheless because you write about a variety of topics, do not despair! You can create several categories of topics that you are passionate about, within your blog. You can be a parenting blogger, with a rich library of recipes, and organizational tips. Or, you could be a craft blogger who has a passion for writing about social media. The main thing is, highlight those areas in your navigation bar. Write about them often.
5. Social media and shareability
Are you easy to follow? 
If you're wondering why your social media following seems to be slow going, take a look at your blog as a reader would. Is it easy to find where one could like your Facebook page, or follow you on Twitter and Pinterest? Create a set of social media icons, and plonk them front and centre on your home page. You can insert them into your header, or into the sidebar, just make sure they're obvious and all in one place. Take the opportunity to add your accounts in the About and/ or Contact pages too.
Are your posts easy to share? 
Have you ever read an amazing post that you think everyone should read, then end up being frustrated because there is no easy way to share it? Take the work out of post sharing for your readers. Regardless of which blogging platform you use, each one has post share widgets that you must install. Readers are more likely to +1, tweet, Pin, or Facebook-like a post when the buttons are right there.
Now, go make your blog stand out!
Let's Discuss!
What tips do you have to add to make a blog stand out?
Ready for More? Keep Reading!
If you enjoyed this post on making your blog stand out, keep reading. We have more for you!