This post may contain affiliate links which may give us a commission at no additional cost to you. As an Amazon Associate we earn from qualifying purchases.
One of the best ways to dramatically increase your blog readership is by guest posting. This has been said again and again and many people have received tremendous benefits from guest posting. However, a lot of people freeze up when they are faced with the prospect of searching out blogs to submit guest posts — not because they are not good writers, but because they lack in self-confidence. Once you have a list of sites that accept guest posts and are relevant to your niche, follow these simple tips to increase the chance of getting your guest posts accepted.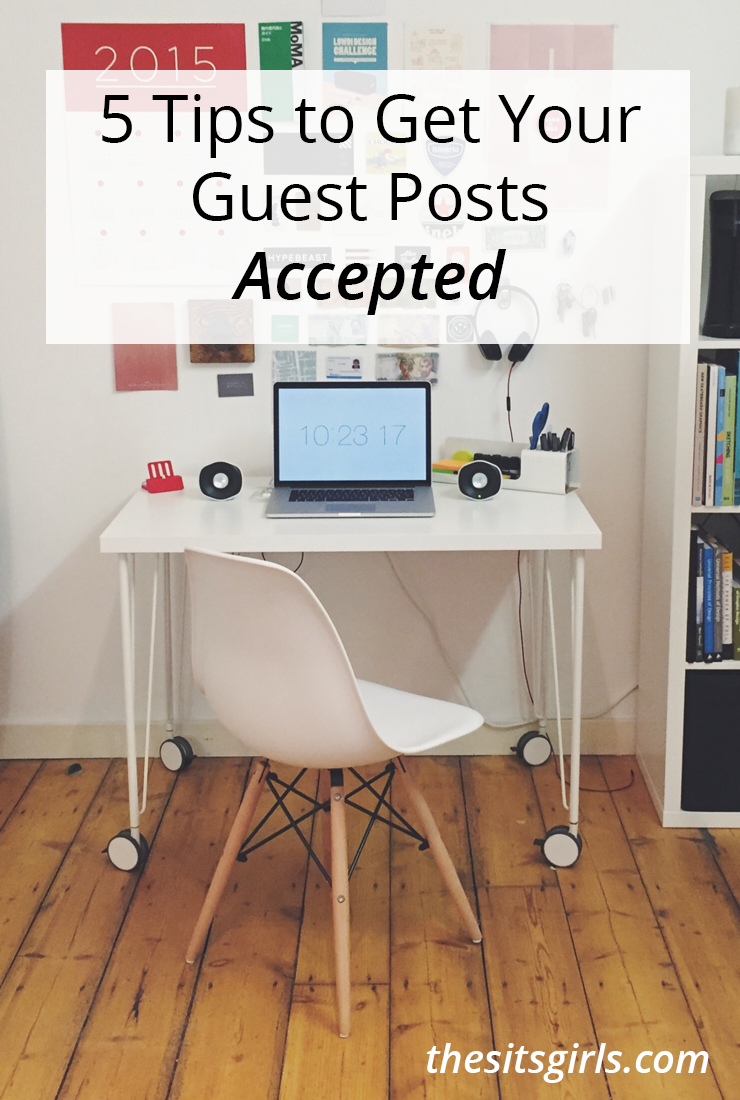 5 Tips To Get Your Guest Posts Accepted
1. Destroy The Fear Of Rejection
If you are afraid your post may not be accepted, your self-doubt may show in your post or pitch. This can cause an otherwise good guest post to get rejected. When you sit down to write, remind yourself to write as if you have received an acceptance letter from the blogger you are going to query.
When I started out, I searched for a sample guest post acceptance letter email from one of my favorite blogs, customized and printed it for my writing desk.
It turned out to be a real booster for me, because I wrote as if my guest post had already been accepted. My creative juices were free to research and write my post without fear of potential rejection.
Even with your self-written acceptance letter, your guest post can still be rejected if you do not adhere to the guidelines of your favorite blog. Before you start writing, make sure you read the guidelines closely. Some sites will even specify suject areas where guest posts are needed, making it more likely you will get a "Yes" if you write on these topics. No matter what, read the guidelines and adhere to them carefully. Neglecting even the small details could earn you a rejection before your post is even read.
3. Review 10 Popular Guest Posts Accepted In The Past 3 Months
The purpose of this exercise is to familiarize yourself with the kind of writing your targeted blog appreciates.
Those guest posts were accepted, so their writers must have done something right. By reviewing guest posts that are accepted, you can easily get into the rhythm of the blog. You get a feel for the style and tone of the posts and you can try to adapt for that audience.
4. Add a Professional Signature
Adding a blog post signature does not require you to digitally scan and upload your signature to your post. This refers to the two to five line blurb, or bio, that appears at the end of posts. Your writer bio gives you space to talk about yourself, what you do, and (most importantly) provide links back to your blog.
Keep your blurb humble, no vain heaven-clinging autobiographies. Popular bloggers will be more favorable to modest bloggers than to those who consider themselves made.
5. Don't Cry If Your Guest Post Is Rejected
You have worked on your post — worked really, really hard — only for it to be rejected? This is not the end of the world, so do not lose your head and abandon guest posting as something you are not cut out for.
Even popular blog owners have their guest post rejected from time to time. I am serious. So if your guest post is rejected, you have three options:
Turn the Rejection to a learning opportunity. Write nicely to the blogger and ask why your guest post was rejected. You may even ask to know what you can do to make your future guest posts acceptable to their audience.
Post it on your own blog. You have a quality guest post that was rejected. Chances are, you even spent more time on that post than you spent on your average blog post. This is a wonderful opportunity for you since if you a quality post cannot possibly hurt your blog.
Submit your guest post to another blog. You can look for other blogs in the same niche and submit your guest post.
Warning: Do not send a guest post to more than one blog at a time! Only send a post to a second blog after you have received a rejection mail from the first blog. This will save you from the potential embarrassment of having your guest posts accepted in two blogs at the same time.
Having your guest posts published on reputable blogs will not only result in a traffic boost but also builds your credibility and reputation. Guest posting is a great way to increase your authority in your niche.
Author Bio:
Aqib Nazir is the founder of AQIBNAZIR.COM. He is a father to a beautiful son, husband to an amazing wife, and son to a great mom with a passion for IT. He writes about blogging tips and making money online. You can follow him on Twitter and Facebook.