This post may contain affiliate links which may give us a commission at no additional cost to you. As an Amazon Associate we earn from qualifying purchases.
Blogging takes up a lot of time and it's hard work. That's why when we come across a blogging tool that works, we want to share the information with our community!
Thankfully, there are a few blogging tools that help you save time and make your blog run a little smoother.
I've been blogging for 2 1/2 years now, and I have tried numerous blogging tools to help make things easier, quicker, and more fun.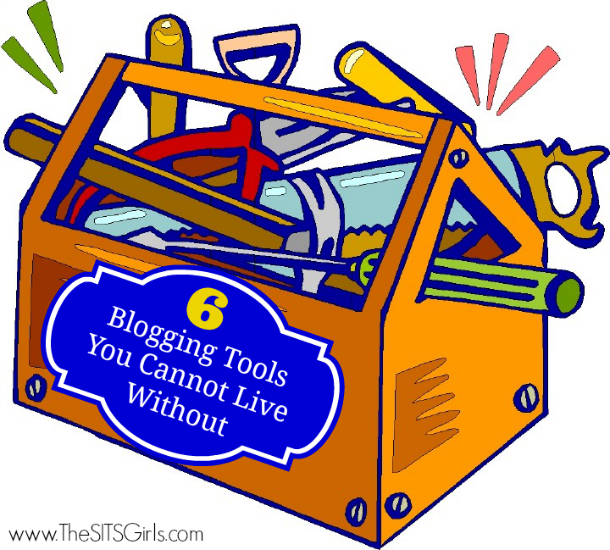 6 Blogging Tools All Bloggers Should Be Familiar With
There are so many blogging tools out there, but these are the ones I cannot live without.
Feedly
When you blog, you read other blogs. If you're still using the 'old-fashioned' way of bookmarking your favorite sites, I think it's time to reconsider a more efficient way of following your favorite blogs. Feedly is a terrific way of organizing, reading and sharing your favorite blogs and websites. You can download the application onto your browser, and it's also available as an app on your smartphone. I love the magazine-style layout, and the ease in which to organize the blogs you read into categories. You can also search for new blogs using its search function, and add them to Feedly easily.
Evernote
I use Evernote to stay organized. It's a great tool for taking notes, saving web pages using it's clip function, and it syncs all the devices you use, so it is great for on-the-go use. You can also share your notes, documents and files with others, so this would be a great tool for collaborative blogs.
PicMonkey
I love PicMonkey, as it is by far the best tool I've used so far, for all my photo editing needs. I like that it is free to use (though you can upgrade to the paid version, allowing you access to more font types, filters, frames and so on), and you can pretty much do anything with it, like create business cards and your own printables.
FreeDigitalPhotos.net
Every blog post could benefit from a good picture. However, not everyone has a camera, or are able to take quality pictures to go with their blog posts. This is where stock photos can be useful. If you cannot afford to pay for stock photos, FreeDigitalPhotos.net is a wonderful resource. They have thousands of pictures, free to use in their archives. Do take note that all free photographs must be given due credit in your post.
Bitly
Bitly is a URL shortener tool. What's great about it is, you can then track all the click-throughs on the link easily, from your Dashboard. All you need to get started is sign up for a free account.
StatCounter
StatCounter is a great alternative to Google Analytics. It offers in-depth analysis and statistics, giving you an overall picture of where your blog traffic is coming from (they break it right down to which city); the number of unique page views and unique visitors, exit links (where the reader went next – I find this really useful to see if anyone has clicked on my social media icons, or the links in my post); and the Recent Visitor Activity log lets you know what pages your readers are looking at, and clicking on. There are many other great tools in there, that you can explore once you're more familiar with the ins and outs of StatCounter.
Which blogging tools are must haves for your blog?
Want More Blogging Tips? Keep Reading!
If you enjoyed this post on blogging tools, keep reading! We have more.