This post may contain affiliate links which may give us a commission at no additional cost to you. As an Amazon Associate we earn from qualifying purchases.
Hi SITS Girls Community! I'm Sarah Mueller, usually I blog at Early Bird Mom, but today I'm writing to you about something every new blogger wonders about: what are the best WordPress plugins?
If you've just started a blog, you may be wondering what plugins you should install. As of today, the WordPress site has 38,224 plugins listed. That's a lot of selection! What plugins are helpful or necessary and which one should you pick?
Every time you install a plugin, it adds a bit of extra load on your site.
If a plugin is not well-designed, it might add a lot of load (and slow down your site). Slow sites are penalized by Google which hurts your search engine ranking. So you definitely don't want to install plugins that slow things down or that you don't really need.
What to look for in a WordPress plugin:
Compatible with your version of WordPress. Each plugin will tell you the version of WordPress it works with.
Lots of downloads and 4+ star reviews. Just like when I'm using reviews to make shopping decisions, plugin reviews are a great tool to help you decide if it's the right plugin for you.
A fairly recent update. If the plugin hasn't been updated in 6 months or more, I get a little worried that the developer may not be actively supporting it.
A good description. You want a good idea of exactly what the plugin promises to do; not just what you think it will do. This will save you time if you determine that a plugin isn't right for your needs.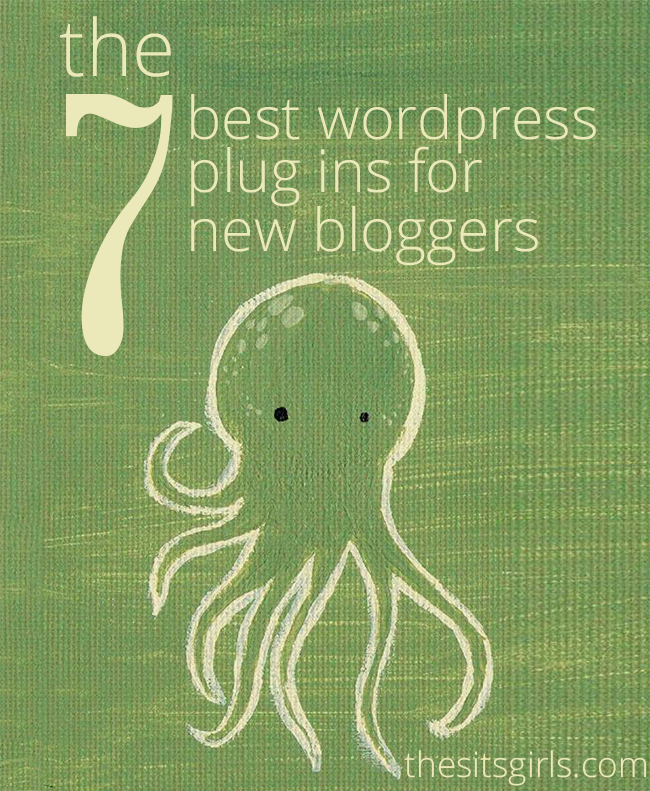 My List Of The 7 Best WordPress Plugins For New Bloggers
1. Akismet (or another spam blocker)
Spam may be a fact of life but that doesn't mean you have to see it every day. Installing a spam blocker like Akismet will save you tons of time weeding through spammy comments. No, I don't want any comments about Louis Vuitton handbags, thank you very much.
Akismet is a paid plugin, but it's well worth my $5 a month to keep out the spammers.
2. A Social Sharing Plugin
You have to make it easy for your readers to share your content! Don't make them work (they probably won't!). I like Easy Social Share Buttons for WordPress which is a paid plugin. A couple free options are Social Sharing Toolkit and Shareaholic.
Most of the social sharing plugins have a Pinterest hover button – but if yours does not, you must get one! If you're not maximizing your Pinterest efforts, you're missing out on some sweet traffic!
You can also encourage your readers to "follow me on Pinterest!" Sometimes a simple reminder is very effective. See what I did there?
3. Subscribe To Comments
I try to respond to all my blog comments and I want people to know when I do answer them. This plugin emails them replies so they don't have to stalk my blog to find out if I left an answer (again, not likely that they will make the effort).
This is especially meaningful when I've written a heartfelt post. I got a ton of engagement and readers came back to continue the discussion when they got replies.
4. Google Analyticator
You are going to want to know how many people are visiting your blog (plus all kinds of other wonderful numbers). Installing Google Analyticator makes connecting with Google Analytics easy.
5. WordPress SEO by Yoast
This plugin makes it easy to optimize your posts for SEO. It's helpful for picking keywords, making sure your titles aren't too long, and other blogging goodies. Bonus – this plugin allows you easily enable Pinterest's rich pins.
Yoast allows you to quickly research blog post keywords with it's drop-down suggestions. It also gives you a simple checklist to follow to make sure your posts have keywords in all the right places.
6. Sumo suite of plugins
I've already told you about how I used Sumo Me to grow my email subscriber list to 5,000 readers. It's super lightweight, installs easily and has so many tools!
I use Sumo on my site for a pop-up as well as to see where people are clicking on a post (called Content Analytics) and how much of an article people are reading (called Heat Maps).
Last week, I had a post go viral and I quickly enabled Heat Maps on that page. I learned that even though it was a very long post, on average, people were still reading 75% of the post.
7. WP Super Cache
A cache plugin speeds up your site by creating static files instead of rebuilding your pages with each pageview. If you do have a post go viral, you can enable "lockdown" mode (and feel like a ninja and blogging superstar all in one!) to help keep your site from crashing.
WordPress plugins give you so much functionality!
With so many different plugins, you have access to all kinds of features for your blog without having to do any coding. Try out these 7 must-have WordPress plugins to get your new blog off to a great start.
What are your best Wordpress plugins?