This post may contain affiliate links which may give us a commission at no additional cost to you. As an Amazon Associate we earn from qualifying purchases.
Content is King. We hear that a lot in the blogging world. I agree content is king, but it can also be a killer. How do you feed that hungry King Content Monster? We should all be posting consistently and that means having a funnel of ideas on a steady drip for our readers to guzzle. I'm going to help you turn your ideas into great posts with 7 steps to successful blogging content for our blogging tips and tutorials series. Let's get started!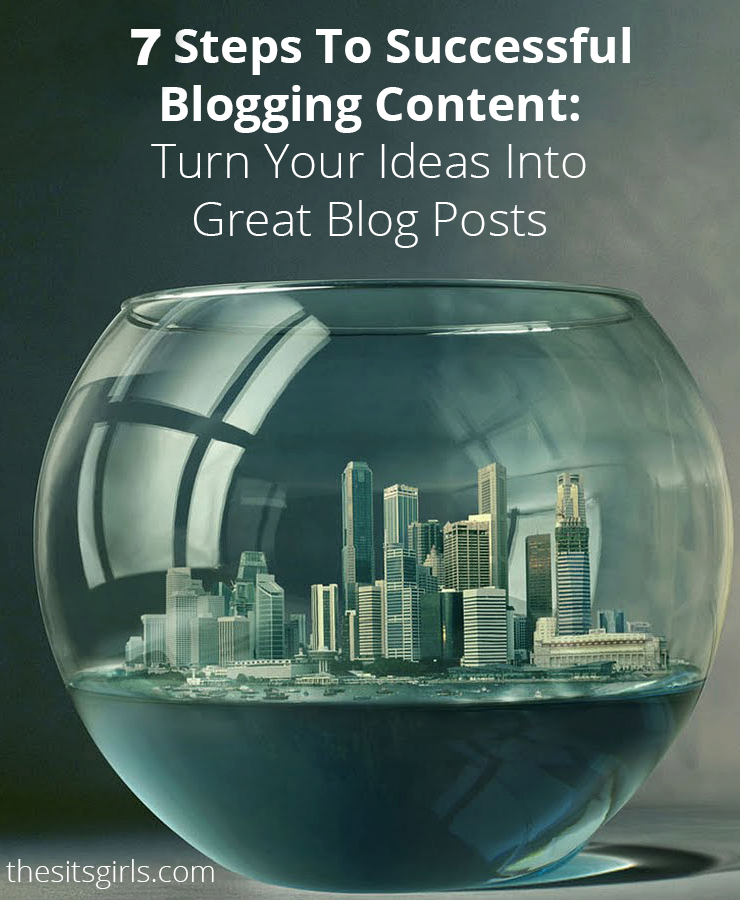 7 Steps To Successful Blogging Content
Step 1: Brainstorm. This sounds easy, right? It's not always. If you wait for the Muse, she takes her sweet time, much like when you're watching cake bake in the oven. If you think about the categories you blog about, you can use the scale I use to generate ideas. On any topic, I put myself in a newbie's shoes and write down what they would want to know to succeed. Then, I change perspectives and act as an expert, brainstorming on what they should know, but maybe don't. I also try to focus on tips, tricks and hacks for those maverick types.
For example, let's say we want to write a post about blogging. Using the scale, we can come up with the following posts:
Blogging for Newbies
What You Don't Know About Blogging
Blogging Tips That You Need to Know
Blogging Do's and Dont's
Apps That Make Blogging a Breeze
What 10 Top Bloggers Have to Say About Blogging
How to Find Balance with Blogging and Family Life
10 Steps to Start Blogging
10 Tips to Level up Your Blog Game
How to Design a Click Worthy Blog
See? All from the word blogging, and using the scale going from newbie to expert. Of course, we don't just stop here.
Step 2: Rock that title. In step 1, we have 10 titles. Are they the most clickable, attention getting headlines? Probably not. The trick to step 1 is not to censor yourself. You just write and write until your brain stops. Then, spend a bit of time rewording your title so that it's perfect. I use the Co-Schedule Headline Analyzer, but others have used Portent, Hubspot, Link Bait and others.
I was working on a title for a post recently, and someone in my tribe mentioned that sometimes, these analyzers and title creators aren't foolproof, so if the title sounds awkward to you, keep refining it until it's right for your audience.
Step 3: Get it out of your head. There's a lot of that in blog writing, isn't there? Once you have the title down, you'll want to create a basic outline of all the points you'd like to hit in your post. You may end up having a listicle on your hands, and if so, that's a bonus! List posts and infographics often receive more average shares than other content types.
Creating an outline of your post will keep you focused. The title should help you frame your post, and be almost like the hypothesis you are trying to prove (remember high school?!). Within your post, you want to continually prove your title right, or wrong, if that's what you're going for. You don't want to mislead your readers with content that doesn't have anything to do with the title you carefully crafted.
Step 4: Write a killer introduction. Not just any old introduction. Make the first sentence short. Why? To keep readers reading! The whole point of writing the first sentence is to get to the next sentence until the end of your post. You want to hook them and hold their interest until the end of your post when you kiss them with a call to action! Copyblogger says:
The first sentence of your copy should be unforgettably relevant, useful, truthful, and tempting, because the first line is usually what sticks in the mind of the reader — for better or worse.
Step 5: Consider Length. It's quite possible that as you outline your post, you realize that you have a lot more to say on the subject than you initially thought. Turn your post into a series. Better yet, try to create a infographic and tease your readers with a part two in your initial post and delight them with an infographic they can pin! Canva has a super easy infographic creator that you can play around with.
Step 6: Pay attention to white space. What's white space? White space is all the space in and around your post. Readers like short paragraphs and bullet points. This gives the illusion of quick reading. People want to get in, and get out. This is why lists are so popular, by the way. Imagine if this post was one block of text. It could be the most amazing post in the world, but if it looks like thick text, no one will read it or share it.
Step 7: Include links to other reputable sites. Unless you're writing a personal reflection, it's good practice to incorporate other links in your posts for a few reasons:
Social proof: When you link to other sites in your post, you're showing your readers that you aren't alone in your thinking or strategy. Taking it a step further, you can link to posts that support a new idea that you are conveying to your audience as a way to persuade them to see that you know your stuff.
Community building: By sharing other content, you're building community with your readers. They see that you're doing your homework, and sharing what you find with them. Your readers will come to trust that you don't keep all of your secrets to yourself, but share your sources. Remember that sandbox you used to play in as a kid? The internet is one big sandbox, and we all have to play nice here, too.
Chance to get shared with their audiences: This is a bonus that shouldn't be counted on as a begging strategy, because you can come across as off-putting if you abuse it. When you link to other people's content, consider tagging them on social media to let them know that you have linked to them. Use this sparingly! For example, the last time I tagged someone on a post I wrote was in April.
Those are my top 7 tips to help you go from an idea to a great blog post. If you're still stuck on where to start on blog idea generation, read on for more tips!
What about you? What's your process from blog idea to post? Share so we can all learn your awesome!
If you want more help brainstorming, check out this post from our Think Like A Marketer Series and learn how to create brilliant blog post topics by brainstorming.