This post may contain affiliate links which may give us a commission at no additional cost to you. As an Amazon Associate we earn from qualifying purchases.
I like to say that all of the success I've had in blogging and social media are the result of the many, many mistakes I've made. From starting on a basic platform with a ridiculous name (Silly Tater Tot), to taking terrible photos, to writing run-on sentences with no formatting, I've grown as a blogger and a person. Today I'm adding to the blogging tips and tutorials series with 7 tips for successful blogging that have helped me along the way.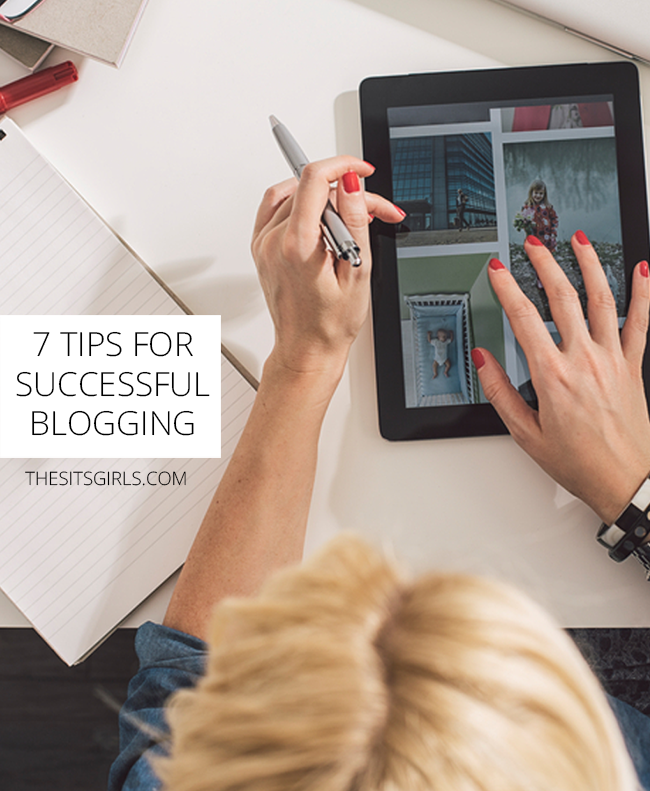 7 Tips For Successful Blogging
1. Editorial Calendars
Oh, boy. If I'm passionate about anything in blogging, it may be this beautiful two-word tool. Now, full disclosure: I'm a Type A who loves lists, so the idea of a detailed plan for blogging makes my heart sing. That's not the case for everything, but the great thing about editorial calendars is that they can be flexible, short and simple.
A good editorial calendar helps you collect ideas for new posts, save research, photos and links for draft posts, look ahead to special events, holidays or sponsored post deadlines, and can give you readers a better idea of when and what you'll be posting. This can really help if, like me, you don't post about one specific thing, but have many interests. If you post about photography on Mondays, recipes on Wednesdays and wacky cat videos on Fridays, you'll always know what you need to work on and your readers can visit or subscribe to only the topics they care about.
2. Media Kits
This is probably the number one thing I'm known for — I consult and coach with people who need help with media kits, I have a gallery of examples from bloggers of all audience sizes and I speak at conferences across America, sharing media kit best practices. I really believe that bloggers who want to make money (or make more money), get speaking gigs or set themselves apart as a professional in a world of hobby bloggers need to have at least a basic media kit.
(That's not to say everyone needs one — if you LOVE writing and sharing but have no interest in speaking or making money, skip this tip! It's certainly not required and won't necessarily help you grow your audience.)
They are easy to make (you can even design one in Word or Canva) and you don't need to be a graphic designer to create something simple and effective.
3. Don't Get Caught Up in a "Brand"
I love a cute blog name or URL as much as the next guy or gal, but I've learned over the years that if blog names picked at year one don't always make sense at year seven. I know from experience — I started as SillyTaterTot.com which seemed a bit ridiculous and juvenile when I wanted to blog about more serious topics like weight loss and body image, monetization of blogs and other professional themes. But I was afraid to pick another name that might be outdated in a matter of time.
Choosing to blog at my name — KatyWidrick.com — and vary the cutline from time to time has worked very well for me, and it's one of the top tips I have for bloggers. If you blog at Vegan Girl Who Loves Dogs and then one day, you decide to eat meat and that you really prefer elephants, your name won't feel like an authentic fit. Or if you call yourself I Love to Run and Do Yoga and then get injured and can't work out for a year, you may wish you had a bit more flexibility.
Branding and being memorable is great — but try not to get too caught up in a cute name and instead, find a URL that can be your permanent home and save the fun puns for your tagline and header (which can change at any time without causing you to switch URLs and possibly lose traffic).
4. Wear the White Hat
I don't know many people who got into blogging who were only in it for the money. We're good people, with good intentions…but it can be easy to get caught up in things like audience numbers, monetization and seeking online fame. So remember to be the good guy. Wear the white hat (anyone else just love Olivia Pope?). Follow the rules, from disclosure to no-follow links. Trust your gut and if something feels wrong or sketchy, don't do it (or ask enough questions to clarify). If you're going to use content from another blogger, reach out and ask first, or make certain that you properly source the material (and don't steal photos!).
5. Use all of the Tools
At this point, technology should be your best friend. From creating contracts and accounting for blog income to automating your email marketing and editorial calendars, there are so many fantastic, and free or inexpensive, tools out there! A few of my favorites:
Passion Fruit Ads (for selling and hosting banner ads on your site)
FreshBooks and Quick Books (for invoices, contracts and accounting)
CoSchedule (for editorial calendars)
6. Be a Great Source
People obviously come to your site because they like you but here's a tip that can take some of the pressure off of writing new posts: be an aggregator! If you're a food blogger, why not post once a week with a roundup of recipes that other bloggers have written? Put together a Pinterest board of great hairstyles or cleaning tips or crafts, or whatever your niche is, and embed that in a post. You can get a lot of reach for a short amount of time invested, and it's also a really nice way to highlight content that other bloggers have worked hard on.
7. Stay True to You
At the end of the day, you need to do you. Don't get caught up in how many readers or followers another blogger has and try to copy his or her style — celebrate what makes you so awesome, and remember what people loved about you when you first got started! Never forget that your readers invest their time and energy in your site, and they don't want you to stray too far from your roots. Can you grow and change and try new things? Absolutely? But do it in a way that feels true and authentic to your voice and perspective, and you'll never feel lost.
Looking for more blogging tips? Check out the SITS Blogging 101 Pinterest Board.
Follow The SITS Girls's board Blogging 101 on Pinterest.