This post may contain affiliate links which may give us a commission at no additional cost to you. As an Amazon Associate we earn from qualifying purchases.
We love images. Our eyes process them at great speed. Our brains remember them long after they've gone. We're drawn to them on a page or screen. Shareable images have the potential to add great value to your blog posts.
Luckily for us, the Internet loves them too. So, how do you make the most of their "share-ability?"

What are shareable images?
Shareable images are much more than photographs. Photographs can be powerful. Smart phones have made instant photography affordable and accessible. But, don't feel you always have to pay for stock photos or take your own. They are just one of the many ways you can add visuals to your blog posts.
9 Types Of Sharable Images For Your Blog Posts
1.
 

Quotes

Not only does the Internet loves images, it also loves quotes. These are one of the easiest images to create.
Apps like WordSwag allow you to make them on your phone in minutes. If you use graphic design software such as Photoshop or Illustrator, you can create exactly what you need, tailored to match your brand.

Quotes are a great opportunity to add branded, shareable images to your collection. Whichever tools you use, make sure you are consistent with your signature style.

If you are already creating them for social media, you have a highly shareable asset on your hands. Don't forget to repurpose them into appropriate blog posts, or use them on other social networks.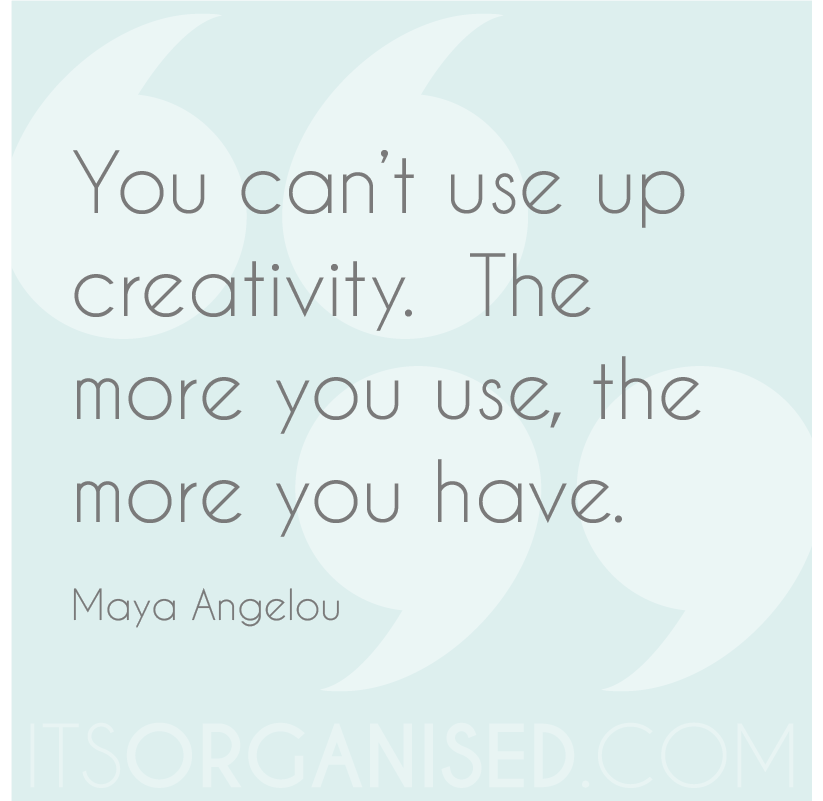 2.
 

Screen grabs

Screen grabs are a quick, easy, and cheap way to create blog images. They are great for capturing customer reviews and feedback on social media, or demonstrating a step-by-step tutorial.

Screenshot on a Mac: cmd+shift+3 will capture the entire screen or you can use cmd+shift+4+drag over the area you want, for a more precise selection. These images are saved to your desktop.

Screenshot on a PC:  use the Snipping Tool for a precise area. For the full screen, click the Windows Logo+PrtScn button (this is saved to your Pictures/Screenshots folder). To capture just the window you are using, click Alt+PrtScn (this copies it to the clipboard, so you will then need to paste it to use it).
3.
 

Video

Having decent video equipment is no longer a barrier to entry as, yet again, smart phones have come to the rescue. Make sure you encourage others to share your video by allowing embedding.

You can record your Periscope broadcasts. Add a branded title and credits, or add a logo, before uploading to your video host.

Facebook Live is now available on FB Pages. These come ready to share and can be embedded into posts.

If you are camera shy, don't worry, there are plenty of ways to create videos without you in them. Watch some of the popular people in your niche to get inspiration. You'll find a whole range of styles out there – screen capture with voiceover, hands demonstrating a recipe or craft, stop-frame using still photographs, animated graphics and text.

Xanthe Berkeley creates lovely stop-motion videos – see below.
4.
 

Charts and Diagrams

If you need to present complex information or a decision-making process, charts and diagrams fit the bill.
Even something as simple as a venn diagram, showing overlapping circles, can simplify and present an important message in a clear and memorable way.

These types of images can be created with design software – I use Adobe Illustrator to create shapes and graphics. You can also create charts and diagrams in Excel (right click to export a chart as an image) and Powerpoint (you can export a slide as a jpeg).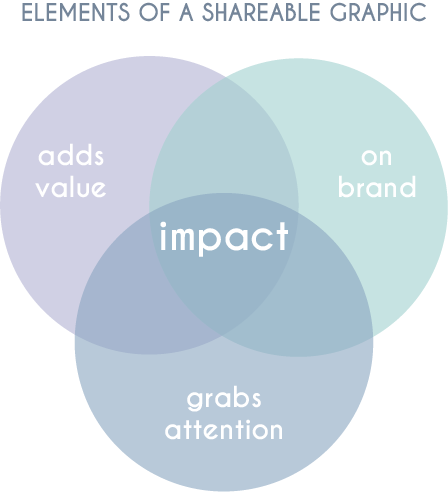 5.
 

Presentations

Slideshare is another great way to repurpose your content and make it available for sharing with a wider audience. In the example below, I've repurposed the list in this blog post, recoloured the images in the infographic below, and included one key point for each image type.

Less is usually more with presentations. Stick to one message, use visuals, cut down on words, and avoid bullet points like the plague.

Remember, it will need to stand alone. You won't be there in person to add any explanations.

Slideshare decks are now playable on Pinterest. When you've shared your presentation to your boards, choose an eye-catching thumbnail, add a keyword-rich pin description, and edit the link on the pin to make sure you redirect people to where you want them to go, rather than automatically back to Slideshare.
6. Animation
With some patience, practice, and a good tripod, a stop-motion video like the Xanthe Berkeley example above would be a fantastic way to showcase your products. It's perfect for a craft tutorial, recipe, or product demonstration if you'd rather not have your face on camera.
Animated gifs are surprisingly low-tech to create and seem incredibly popular at the moment. Keep them subtle, and you could create a shareable image that stands out in a sea of thumbnails.
7. Calls to Action
Your Calls to Action (CTAs) are a major factor in the success of your blog and your business. They can be text only, but why not use images to make sure your CTAs are irresistibly clickable.
Click to Tweets are simple to create. You can do this from their website or if you are on WordPress, install the plugin and the icon appears on your post toolbar.
If you use Photoshop or Illustrator, its easy to make a custom template that you can add the link to.
[clickToTweet tweet="9 Types of Shareable Images for your Blog – its more than just photos!" quote="9 Types of Shareable Images for your Blog – its more than just photos!"]
8.
 

Infographics

You've probably noticed the abundance of infographics online. They are the latest visual marketing craze. Creating them, however, can be time consuming and requires a wide range of skills and resources.

If you are in a position to create them yourself, great. They are eye-catching, shareable and when done well, produce some of the best images online.

If not, then don't forget that you can get permission to use other people's infographics. Embed them in your posts to add value for your reader. Visitors will come back to a site that gives them the information and solutions they need, whether you created all the graphics or not.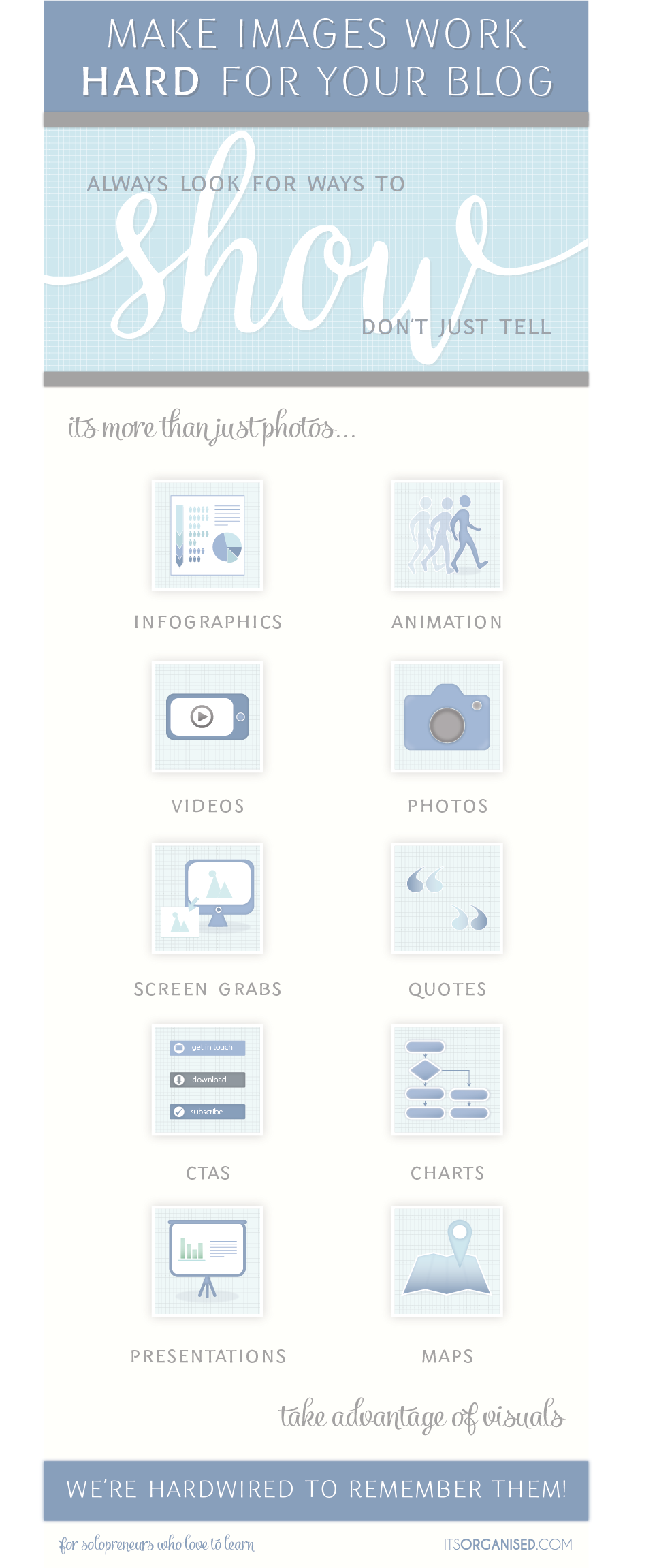 9.
 

Maps

Have a story to tell, a journey to share, or some news on your local area? People love maps.

If it suits your business aesthetic, and you have creative flair, why not try a hand-drawn map?

Stylised maps can be created using design software but, like infographics, are not quick wins. If this suits your skill set and blog niche, it might be something worth exploring. It would certainly be a little different, helping you to stand out amongst the crowd.

And don't forget, Google Maps are embeddable.

As you can see, blog images go far beyond photographs.

ProBlogger recently did a great podcast on how embedded content adds value for your readers. Darren Rowse included 17 types of embeddable content, with images featuring heavily on the list.

We are constantly told that images are vital for sharing and generating traffic. Don't feel you have to rely on stock photos. There are plenty of ways to create shareable images, whether you make them yourself or share the best of what's out there.

Author Bio: Jackie
Jackie writes at itsorganised.com. She helps bloggers and solopreneurs develop technical skills to run and grow their online business. Its the perfect place for business owners who see breadth of knowledge as an asset and embrace a lifelong passion for learning.