This post may contain affiliate links which may give us a commission at no additional cost to you. As an Amazon Associate we earn from qualifying purchases.
Looking for a fun and easy way to add a little personality to your blog? Creating a custom signature to your WordPress posts is easy to do in just a few short steps. Creating a custom signature allows you to really show off your personal style and add some fun to your posts.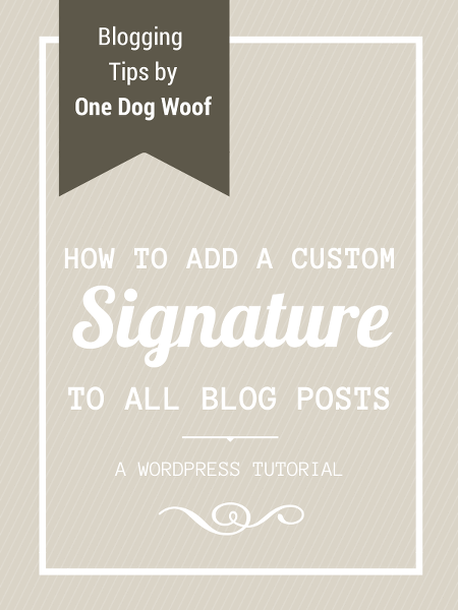 How to Add a Custom Signature to Your Posts
If you blog, you know you want to sign off each blog post somehow. Many bloggers use a signature in a unique font, or even an image or social media follow buttons. But including a signature often includes a hefty chunk of code, and the code needs to be copied into each post. And what if you change your design? Old signatures may no longer match your new and improved look. I'm sure there are plugins to take care of this, but why install a plugin when all it takes is a little code tweaking? Sounds terrifying? Never fear! This detailed tutorial has plenty of code snippets for some awesome Copy-Paste action to take you through the process step by step. Now, if you blog on WordPress, you can add a custom signature to all your posts – past, present and future! Your signature can be text, an image, or even an image map. If you ever need to change your signature to match a redesign, just change the code once and all of your old and new signatures will reflect the change!
Read the Full Post Here: Add a Custom Signature to Your WordPress Posts