This post may contain affiliate links which may give us a commission at no additional cost to you. As an Amazon Associate we earn from qualifying purchases.
I've read approximately a thousand posts on tips and advice for new bloggers, mostly because, even after 4 years of blogging, I still feel like a beginner. With social media and the online world changing so often, I constantly feel like I am a beginner at this whole blogging thing. But, fear not. Over the last four years of on and off blogging, and only within the last four months actively blogging almost daily,  I have learned a ton, and I want to share some of my tips for new bloggers with you.
Now, before we start, here's what you need to know. I am not going to tell you about how to start a blog and what platform is the best. This post, rather, is about the truth of being a blogger and encouraging those of you who are only starting in the blogging game!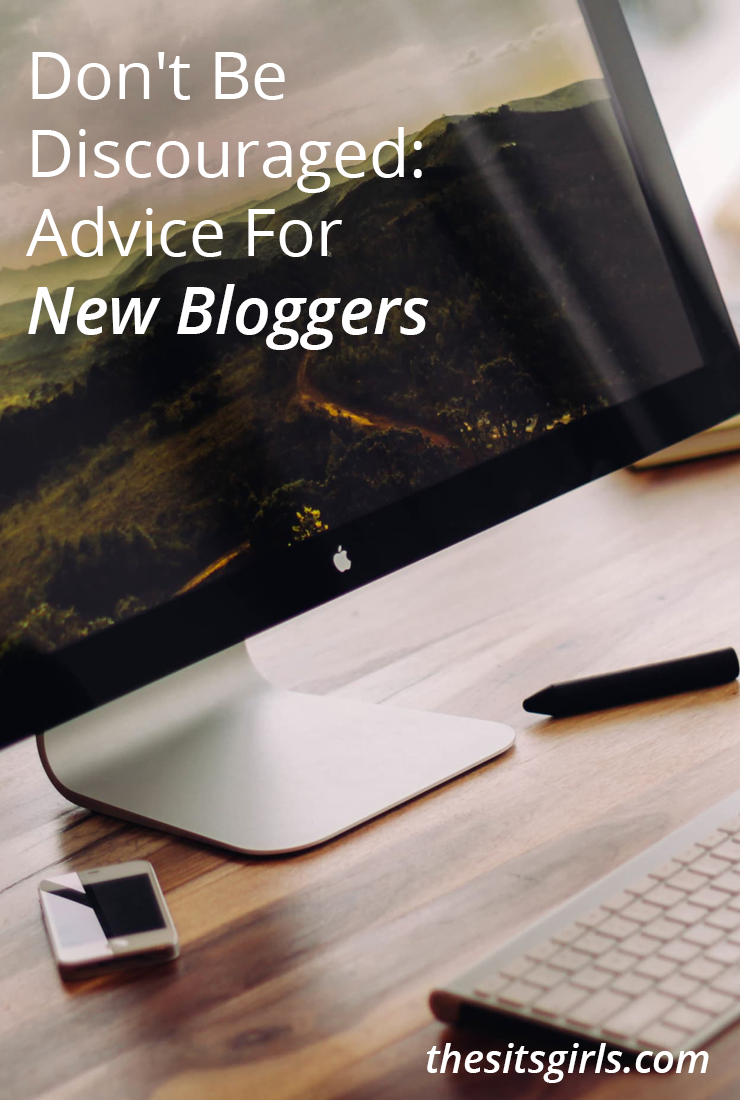 Don't Be Discouraged: Advice For New Bloggers
1. Stop Following The Rules
For a long time, people have been trying to follow the rules and regulations of the blogging world and they lost hope and motivation, leaving their blog to be covered with dust. Today, I want to tell you to STOP!
Stop following the rules, stop trying to fit in with other bloggers and be yourself! Yes, read the tips and advice from other bloggers, apply the things that fit with your blog and vision, but don't lose sight of who you are!
2. Don't Compare
Never, ever compare yourself or your blog to someone else! Don't compare your step 1 to someone else's step 10!
The stress, the tears, and the drama are not worth it! Work one day and one step at a time and create a blog and brand you are proud of. Comparing yourself to others can sometimes be discouraging, especially if you have just started out and they have been blogging for years. Instead of feeling sad and discouraged, use these people as inspiration!
Which leads me to my next point:
3. Good Things Come With Time
Those 'famous' or 'big' bloggers didn't get awesome overnight. It takes time, blood, sweat, and tears to grow your your blog into a brand. Practice makes perfect.
Don't rush into becoming the ultimate blogger! Work hard and work fast, but never rush it. Take time to grow your blog!
4. You Don't Have To Blog All Day, Everyday!
Guys, trust me on this one. Don't wear yourself out (especially if you have a full-time job you are juggling, too). You don't have to push out content 24/7 to keep your readers coming for more! Truth is, if you stay consistent by blogging a few times a week, your readers will stick. They will come back for more and more of you, no matter how many times you blog per week. That being said, it is sometimes okay to take a blog break. Your loyal readers will respect you for that, and they will definitely keep on coming back for more of you and your awesomeness.
5. Social, Social, Social!
I can't stress this point enough. If you want your blog read, you are going to have to be social. Set up a few social media accounts and follow fellow bloggers and influencers. But don't stop there! Interact with your followers daily to grow that relationship! Comment on blogs you like to read, too. But don't just comment: "Here, read my blog at www.mywebsite.com." Leave an actual, heartfelt comment (tell the blogger what you loved about their post). Chances are, they will click on your link and leave a comment on your blog, too.
6. Rock Your Blog And Love What You Do
Starting a blog can be a daunting task, especially with so many other bloggers out there. But my top tip for new bloggers is to just start! Stop worrying about what others might think and write your first blog post! Have confidence in yourself and your blog and magic will happen!
There are many great blogs out there, read them to inspire you and lead you, but never lose your voice or sight of who you are! If you blog for yourself, you will definitely love what you do!
And my last, extra special tip for when you are ready to blog like a rock star:
7. Don't Lose Sight Of Your Goals
Once you are ready to get serious about blogging, I would suggest writing down your goals and placing it somewhere where you can be reminded of them every single day! Seeing your goals in front of you will enable you to work harder and smarter towards reaching them. It's also a great way to hold yourself accountable and keeping you focused.
My goals are written on pretty paper with pretty fonts, and I have them all over my study. I also have these goals saved on my phone, so sometimes, when I am discouraged, I just look at my goals and they get me going again. I've designed a free goal planner printable for you to jot down your goals and stick it where you can see it.
Never lose sight of your goals.
Anyway, that's my tips for new bloggers from a blogger. Don't lose hope, keep on going, and work towards your goals! Rock your blog!
Author Bio: Imka Webb
Hi, I'm Imka Webb. Wife, SEO Analyst, and PR Account Manager by day and Lifestyle Blogger by night. I live in sunny South Africa and I am obsessed with pink, glitter, love and life! Visit my totally glamorous blog here.
Keep Reading