This post may contain affiliate links which may give us a commission at no additional cost to you. As an Amazon Associate we earn from qualifying purchases.
Do you blog for fun? What about for business? Do you blog for fame? The reasons behind blogging are numerous, but one thing remains; when you blog, you need a blogging platform. If blogging is not a business for you, then using a free platform like Blogger is probably the approach you will want to take. However, for those who use their blogging more professionally, owning the domain name having a self-hosted blog using WordPress is the way to go.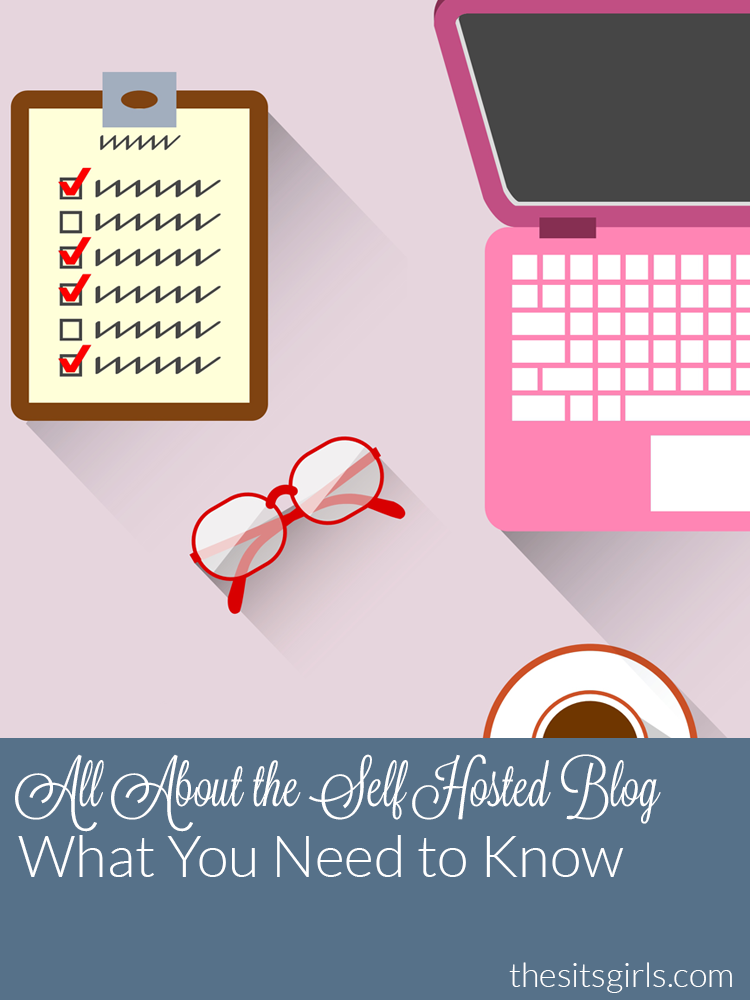 Understanding Self-Hosted Blogs
There are a few points that people seem to most often get confused about when looking at using WordPress. Remember, it's wordpress.org, NOT wordpress.com. In addition, WordPress is free- however, domain names and hosting costs are not. So what do these terms mean?
Domain Name
A domain name is like an address. There is a house, many rooms, lots of things (content), but still- one address. It's how people find your blog. For example, this blog's domain name is sitsgirls.com. You can pick various extensions- that is, .net, .info, .biz, etc. The most common is a .com, mostly because it is what people tend to type in when they are looking for a site- and ensuring it's not confused with something else.
Hosting
If a domain is your address, then hosting can be considered the house. You need a place for your domain to house all of your belongings. You may have different furniture (categories) and different items like tables and lamps (posts), but it all needs to be inside the house (hosting).
Hosting Options
There are various options for hosting plans, and most will cost you from $5-$10 per month. Some of the more popular hosts include Bluehost, Hostgator and Liquid Web. There are plenty more, and you can choose what host you use based on your needs. One thing to consider when choosing a host is how much bandwidth you will need for your site – often, a standard hosting plan is more than sufficient for a blogger just starting out, but as sites grow, more space may be needed. In addition, you need to consider how much you will do yourself and how much you may need help. If you are not technically inclined, you may need to hire help or choose a managed option like synthesis.
WordPress
Consider WordPress to be the rooms in your hosted house at your address. You need framework to put it all in! Many hosting companies offer easy WordPress installations (a great consideration when choosing a hosting company- find out if they offer this). If not, WordPress has their Famous 5-Minute Installation right on their site. The step-by-step instructions require a little bit of work but is relatively painless. Once you install WordPress itself, you are almost there!
Theme
One of the most common questions people have is what theme should be used for WordPress; should it be a paid one, which is better, etc. etc. The answer is that you can really do what you want to do- it depends on how much effort and time you want to put into it. Paid themes like the Genesis Framework & Stuidopress Themes stand out because they have excellent SEO (search engine optimization) built right into their platforms, and many offer designs to go along with them as well.
However, if you really don't want to pay for these themes, plugins can help this with free themes. One of my favorite free themes is Atahualpa– it is extremely customizable with an easy-to-understand user interface.  It is important to look into how much customization a theme requires and how much you need to know/understand before making the investment. While you can always hire someone to take care of the back-end for you, there will be things along the way that you will want to change and customize too.
Are you on self-hosted WordPress? What makes you hesitate if you're not?