This post may contain affiliate links which may give us a commission at no additional cost to you. As an Amazon Associate we earn from qualifying purchases.
If you haven't heard the news about Google Reader, you will want to read closely! It's time for you to find an alternative to Google Reader ASAP!
Google Reader will be shutting down on July 1, 2013. Now is the time to find another way to keep up with all those wonderful blogs out there.
Not to worry there are plenty of other options to keeping up with your favorite bloggers. Some platforms will even transfer all of your Google Reader info over for you.
If your still unsure about which platform will work best for you, no fear! We have put together a list of some of the most popular readers on the market right now, giving you plenty of ways to find an alternative to Google Reader without any delay.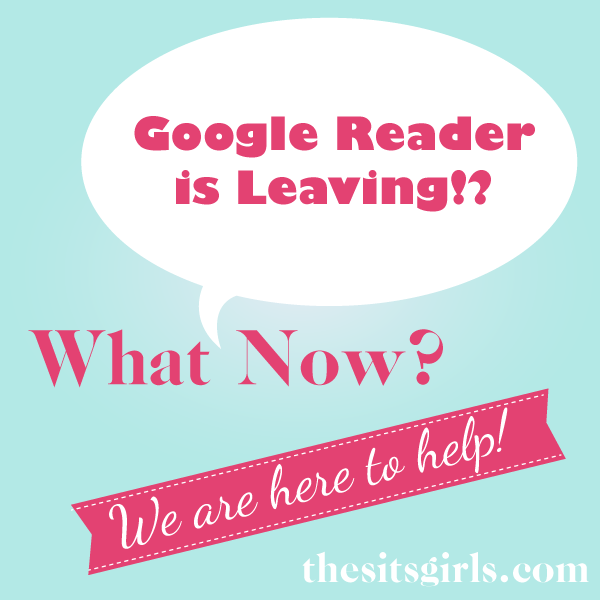 Finding An Alternative to Google Reader That's Right For You!
Blog Lovin:
Bloglovin has really taken the blogging world by storm over the last few months. More and more bloggers are signing up for this reader service as an alternative to Google Reader. Bloglovin will transfer over all of your Google Reader subscriptions, but keep in mind it will not transfer over your Google Reader folders. Be prepared to spend some time reorganizing your feeds.
Feedly:
Feedly is probably one of the most popular RSS services out right now. Feedly has a very clean interface that is extremely user-friendly. Feedly transfers over your subscriptions and your folders! This is a huge! If you have a large RSS feed, then having your folders automatically transferred over for you will be a big time saver.
Keep in mind that Feedly doesn't work with older browsers like Internet Explorer 8.
Social Media:
Maybe the next step is to by-pass an alternative to Google Reader altogether, which is perfectly fine! Some people have decided to forgo using any kind of reader and that is perfectly fine. You can use social media to catch up on all the latest blog posts. I find that this is a little harder to do since social media moves at a much faster rate. There are a few ways to make following blogs through social media a little easier.
Both Twitter & Facebook allow you to make custom lists. Making a custom list will quickly allow you to scan posts from your favorite bloggers. You can also set up specific streams in Hootsuite, making it easy to see updates from your favorite bloggers.
Flip Board:
Flipboard is amazing and is by far my favorite! If you have an Apple or Android device, then you can install the app right on your phone or tablet. This is perfect alternative to Google Reader for people who like to catch up on social media, blog posts and the news while on the go. Flipboard will also transfer over all of your Google Reader info.
Flipboard definitely isn't for everyone, but I still think it is worth checking out.
Digg Reader:
There isn't much information out on this new reader, but it is set to launch on June 26, 2013. This will give you a few days to get your Google Reader information transferred over before it is shut down completely. Make sure to stay on the look out for Digg's new reader. There has been a lot of speculation that this is going to be a good one! You can get a short preview by reading this post on the Digg blog.
Most importantly, Digg will transfer all of your current Google Reader info over for you!
Looking for more posts like this one? Keep reading!
Our post on finding an alternative to Google Reader is just the tip of the iceberg when it comes to helping blogging and social media tips. Here are others that you might want to dive into too: