This post may contain affiliate links which may give us a commission at no additional cost to you. As an Amazon Associate we earn from qualifying purchases.
A few weeks ago, on what started as a fairly normal morning, my blogging world imploded…all while I slept peacefully in bed.
I got a text from my mom asking if I wouldn't mind checking on her website. I host and maintain her photography blog, which she updates every morning with pictures from outside of her home in mid-coast Maine. I also host three of my own websites and an inactive blog my husband kept for a few years. From time to time, our websites go down if there's a server interruption or other problem, so I've learned not to panic.
I told her to give it a few minutes and that I'd look into it once I'd started my day. Lazily, I got out of bed (did I mention I was hugely pregnant at the time?), helped my toddler get ready for school, slurped down some coffee. And then, assuming everything would be back to normal, I loaded my mom's site. Then mine. Then the rest. And fairly quickly, I realized this was no standard downtime.
A hacker or hackers had somehow gotten into my hosting account — either guessing my password, using a brute force attack or some other tactic — and had not only redirected all of my websites to a bogus e-commerce site hosted in Turkey…but had essentially wiped out all of my information and put new information in its place.
The databases (the text for posts, pages, etc.) and all files (uploaded images, themes, plugins, etc.) were deleted. Gone, as if they never existed. And the hacker's domain was all that I found. (See my full post about the experience here.)
After a frustrating series of chat sessions with my host, in which I discovered that my courtesy backups had, in fact, not been done because of a lack of disk space on my account, I realized that if I'd not made one very smart choice years before…my blogging world really would have been wiped out.
What was that choice? I took control of my blog backups. And today I'm going to help you make sure you know how to back up your blog, so you are prepared if someone attacks your site.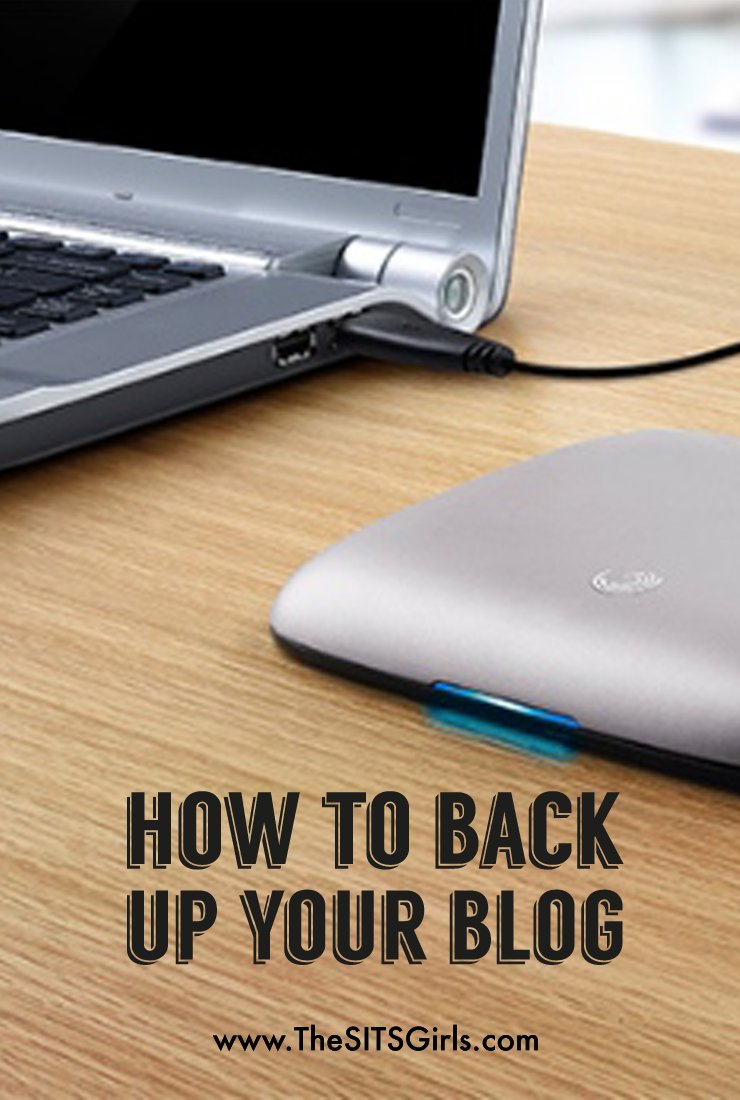 How To Back Up Your Blog
The thing that many beginner bloggers don't realize (and frankly, many established bloggers who don't know much about how hosting and web development works) is that there are a few components to securely backing up and then restoring a broken or hacked blog.
1) A Full Backup
Again, there are two parts to a backup: the database and the files. Generally, the size of a database backup is quite small, but the files can be enormous, especially if you're in the habit of uploading large images, lots of plugins and themes, or hosting large media files on your server. So even if you are backing up your sites — manually, through your host's cPanel or automatically through a backup service or plugin — you must be certain that everything is actually being backed up and stored somewhere safely.
I strongly recommend a service called VaultPress (I pay full price for it and get no compensation for suggesting it here). It's a plugin that runs between $5-15/site each month, but it backs up your entire website, either daily or with each keystroke. For most bloggers, the daily backup will be perfect — and VaultPress allows you to connect your site's login information so that if you ever need to use the backup, it only takes the click of a button. No logging into your files via FTP or cPanel! Plus, your VaultPress dashboard shows you all activity so you know when your last backup happened, and it's stored securely by VaultPress so you can go back to any restore point at any time.
2) A Full Restoration
Without a full backup, you can't make a full restoration. But if you do find yourself in trouble, how do you take your backup and apply it to your site? No matter what service you use, you'll likely need to re-install WordPress (if you're on another platform, the process is the same but the steps to restore will be slightly different). Then, if you use VaultPress or another plugin, you can click your restore button and in a few minutes or hours, you'll be back up and running as if nothing happened.
If you back up manually, saving your backups to your computer or the cloud, the steps are more tricky — you'll have to log into your site's files and actually move the pieces of the backup into their appropriate spots. From there, depending on your website, you may need to also adjust your WordPress settings, permalinks, etc.
Again, if you want to get your site back securely, fully and quickly, I highly recommend investing the small amount it takes to back up your work through a service like Vaultpress.
3) Updated Security Features
Finally, you'll want to audit and update all of your security steps. Change the passwords to your hosting account, your blogging dashboard, and anything else that may have been exposed or vulnerable. I have started using the 1Password service to randomly generate passwords and logins for all of my websites, and while I hate to have to pay to stop the bad guys, it's a tiny cost compared to the impact another hacking attack would cause me, financially and emotionally.
So, what are your takeaways? If you're not backed up, do it TODAY. If you are, make sure that you really are protecting all of your files. And then be sure you know what to do if you ever have to restore your site or sites from a backup. There's nothing scarier than seeing a white screen or worse, a redirected website, and feeling helpless as to how to get your work back.