Getting organized is a high priority on a lot of people's minds. We organize our homes, our schedules, and our time, so why not organize our blogs? I use to go through periods of time where I wanted to refresh the look of my blog, and generally around that time, my posting suffered, because I was focusing so much time on the aesthetics that I hardly had time to post!
Don't fall into this trap! Once I realized the mistakes I was making, and started taking a more organized approach, things got a lot better. Now that I know how to be an organized blogger, I want to help you.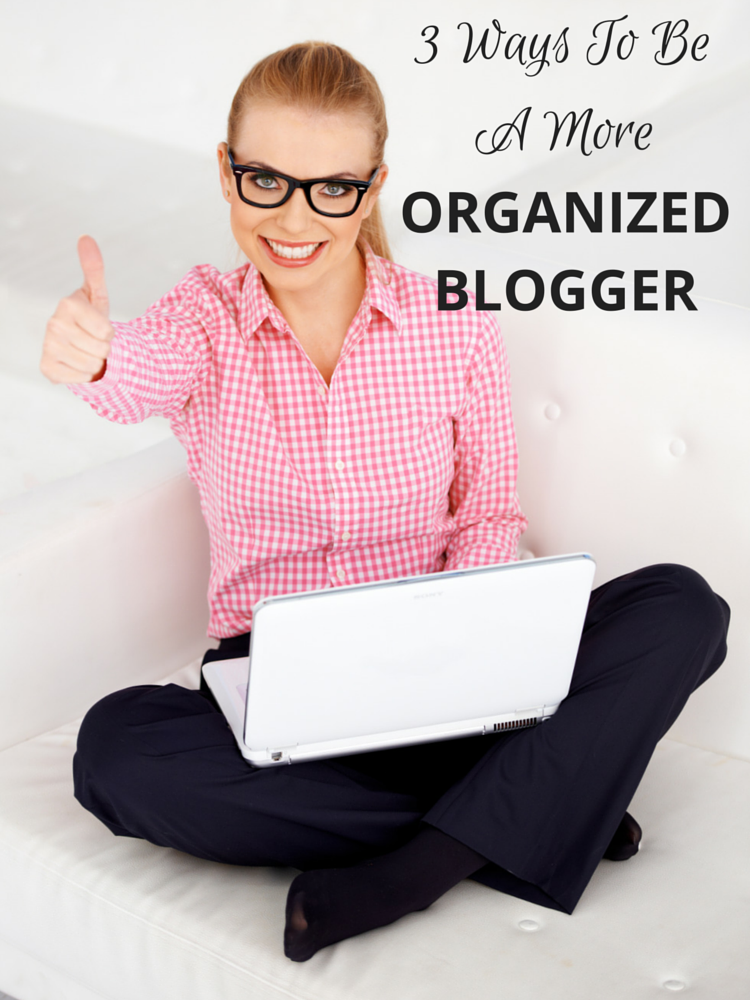 3 Ways To Be An Organized Blogger
If you are looking to have a more organized blog, these few simple tips will help you to do just that.
1. Focus on one blogging priority at a time.
As bloggers, there are so many things that demand our attention. It is so easy to get caught up in doing a lot of things halfheartedly, while neglecting to do at least one thing really well. When we do that, nothing is really as effective as it could be.
Instead of focusing on all the things that need to be done at once, try prioritizing. Write a list of things you wish to get accomplished, and put it in order by priority. Focus on the first thing on your list. Of course you can't neglect the other areas of your blog, but you can give the most time and attention to the area you deem most important until you have completed it. Then simply move on to the next task.
2. Always carry a notebook.
I cannot stress enough how important this is. I use to just randomly pick something to do or write for my blog, and would waste so much time in the process. A notebook has been the best thing that has happened for me.
Do me a favor. Right now, go and grab an empty notebook that you can jot things down in. It does not have to be anything fancy, just a notebook with space to write your ideas. Now keep that notebook with you at all times! Seriously, when you have to go to the grocery store, take it with you. Picking the kids up from school? Take it with you. Shopping trip with the girls? Take it with you.
It needs to be with you at all times, because you never know when an idea will pop into your head for a future post or a design idea. You want to have a consistent place to write your thoughts as they happen. You never know which one will be that million dollar idea!
3. An editorial calendar is your friend.
An editorial calendar is the place where you write out a schedule of your posts. This can look different for each blogger. For example, one blogger may write specific post titles on specific dates in her editorial calendar, while another blogger may have a general guide of what topics she writes about depending on the day. There is no one right way to do it.
Here is an example of a very specific editorial calendar:
Monday – The Best Chocolate Chip Cookies You Will Ever Make
Tuesday –

 

Getting Kids To Try New Foods
Wednesday – How To Make Your Own Chocolate Chips
Thursday –

 

Food Lovers Link Party
Friday – Chocolate Chip Cookies Roundup
With this example, you have written exactly what you will post on specific days.
Here is an example of a more general editorial calendar:
Monday – Home Tip
Tuesday – Blog Tip
Wednesday – Time Management Tip
Thursday – Homeschool Tip
Friday – Work Tip
In this example, you just have a general outline of what you will talk about each day.
Both are good editorial calendars, it just depends on how you work best. The important thing is to make sure that you have one. Hopefully these tips will get you well on your way to becoming a more organized blogger this year.
Author Bio: Jennifer
Jennifer share tips about homemaking, homeschooling, family, and working from home.