This post may contain affiliate links which may give us a commission at no additional cost to you. As an Amazon Associate we earn from qualifying purchases.
As bloggers, we work really hard to publish great content. No matter what your topic pertains to, we're working hard to get it just right until we hit publish. Before you hit publish, make sure your post is fully ready. You can prevent blogging nightmares: having your post shared on social media only to realize that you have a huge typo in your title or that you forgot to add your affiliate links and you missed out on lots of clicks. Prevent them by using a simple Before You Publish Checklist.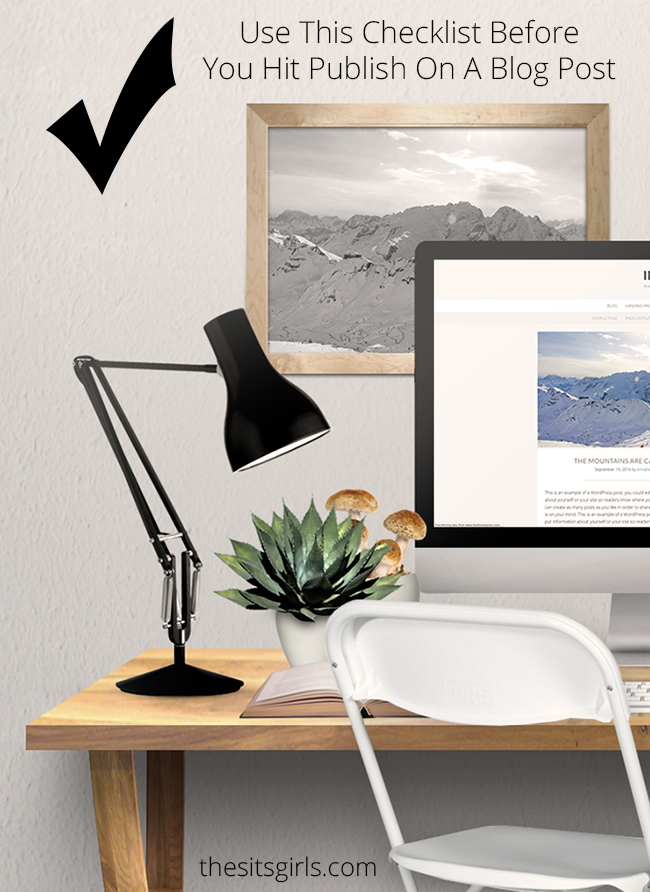 Before You Publish Checklist
The Title: Is your title free of misspelled words? Is it catchy or interesting enough to get people to click on it and read the post?
Proofread Your Post: Make sure your post is free of misspelled words. Run a spell checker. Read it out loud if needed.
Call-to-Action: At the end of the post, do you include a way to get your readers involved? It could be asking them a question so they respond within the comment section or subscribe to your email list or to send them somewhere else via a link.
Links: If your post includes any links, be sure the links are working properly and redirect to the proper page. If you want your link to open in a new page, be sure to check that too.
Affiliate Links: Does your post include a product or service you can include an affiliate link with? Be sure you include a disclosure for your link and make sure it is working properly.
Internal Links: Does your post include a link that redirects your readers to another post that's on your blog? Make sure the previous post you're linking to has updated links and is free of misspellings. You could also run it through this checklist if you want.
Images: Did you set a featured image, if using WordPress.org for your blog? Are they clear photos? Are they pinnable?
SEO Friendly: Are your title and post SEO friendly? Do you have the right keyword or keyword phrase for your SEO being used throughout your post?
Sponsored Post: If your post is a sponsored post, make sure you use the appropriate disclosure for your readers. It cannot be hidden and your disclosure MUST be before your first outbound sponsored link (or affiliate link). Does your sponsored post need to have no follow links? Are there any specific images that need to be used with your sponsored posts? Make sure you are following all the instructions for the post.
Permalinks: Check your permalink and be sure it's short, makes sense, and includes your keywords.
What are some things you do before you hit publish on a new blog post?
Want more help with your SEO?
Before you publish your next blog post, check out these SEO blogging tips.