This post may contain affiliate links which may give us a commission at no additional cost to you. As an Amazon Associate we earn from qualifying purchases.
Do you know how to protect your blog, or what to do when your blog content gets stolen? It's happened to several of my blogging friends, and unfortunately, it's not all that uncommon. It could be some kind of online stalker that is pretending to be you (it sounds crazy, but I've seen it happen), or a website that scrapes and steals content from blogs instead of curating and sharing posts in an ethical way.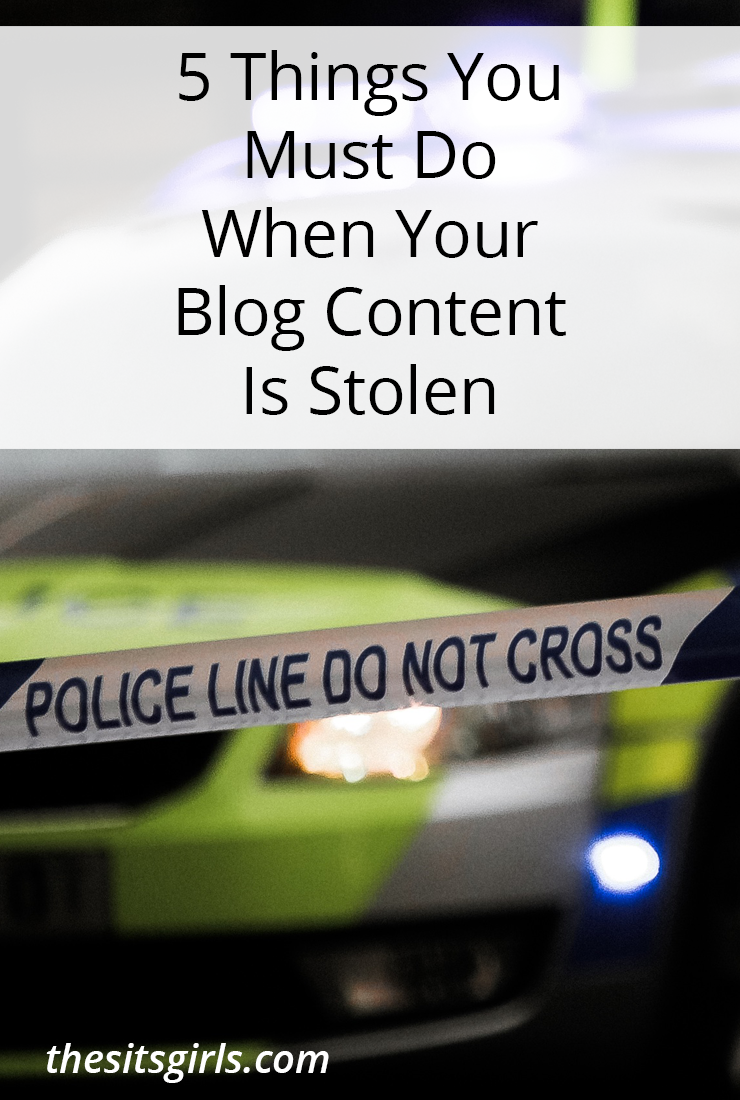 What To Do When Your Blog Content Gets Stolen
You may have found out about it because a friend or reader tweeted you that they saw something fishy with what looked like your pictures. Or maybe you got an alert in your email from a site that you've set up to look for your name or content. However you found out, there are steps to take if someone steals from your blog to make sure that your content is removed from the offending site.
1) Don't panic
It happens to bloggers all the time. As much as it sucks and will inevitably upset you to see your hard work on a different site with credit given to someone else, you CAN get it taken care of.
2) Screenshot everything
Take screenshots of everything you see on their page that is yours. If you see weird things coming up on your stats (in Google Analytics, Statcounter, etc), screenshot it. Even if it might not be related, it's better to be safe than sorry. Any IP address that has hit your blog an unusual number of times, or has stayed on it longer than usual could be a red flag. Then, send those screenshots to a friend so you're not the only one that has them, and ask her to take her own screenshots if she's able to (and especially if there's something that she sees that you don't).
3) Contact the offending website owner(s) and their host company
Ask them to remove your content. If it is one post that was stolen, refer to it specifically. If it's pictures, send a link to which ones are yours. Again, document EVERYTHING. Save a document with links (and dates) to your original content and the links to the stolen content. The more information you have, the better it is if the situation goes south.
4) Send a DMCA Takedown Notice
DMCA stands for Digital Millennium Copyright Act. It is a group of laws that protect copyrighted content on digital mediums. Many ISPs and hosting companies have their own DMCA forms that you can fill out on their site. If your content gets stolen regularly, you can set up a free or paid account with a service like DMCA.com.
5) Ask your blogging friends/tribe to flood their social media accounts with negative tweets, statuses, etc, until action is taken
You can do this for the website and the host company. Often, they will take immediate action if their walls are full of negativity about a situation. Do not let up until you get a response.
If you haven't set up alerts for your blog, do so now. You can set them up through Google or Talkwalker (to name a couple). And if you don't yet have a "tribe," find one. They can be absolute lifesavers (and sanity savers) in these types of situations.
Have you ever had your content stolen? Do you have any other tips?
KEEP READING
Looking for more info? Here are a few posts about protecting your blog content that you'll find helpful: